Do you know what TEREN Ransomware is?
TEREN Ransomware encrypts files on a victim's machine and shows a message saying that he has to pay ransom to get decryption tools. While getting decryption tools from the malware's creators might be the only way to restore your files, we recommend against it. Even if you have no backup copies and cannot replace encrypted files, we still do not advise putting up with the hacker's demands. There are no guarantees that users who pay the ransom will get what hackers promise them. Thus, if you pay the ransom, you could lose your files and your money. If you fear this could happen to you, you could concentrate on the malicious application's deletion. You can learn how to erase TEREN Ransomware manually by following the instructions placed below. Of course, to learn more about it, we invite you to read the rest of this article first.
If you found TEREN Ransomware on your system, you probably opened some unreliable file or interacting with a shady pop-up or advertisement. As you see, many ransomware applications are spread through spam emails, untrustworthy file-sharing websites, and so on. Sometimes hackers infect harmless files to carry their threats, and sometimes they disguise their malicious installers so that users would not think they could be harmful. For example, the malicious files could be disguised as text files. Therefore, we advise not to open files that come from unknown or unreliable sources under any circumstances. Another thing that is highly recommendable by most cybersecurity specialists is having a legitimate antimalware tool. It can protect your computer from lots of threats, and it can be very handy when you receive or download suspicious files as it can scan the suspicious files and help you find out whether they are malicious or not before opening them.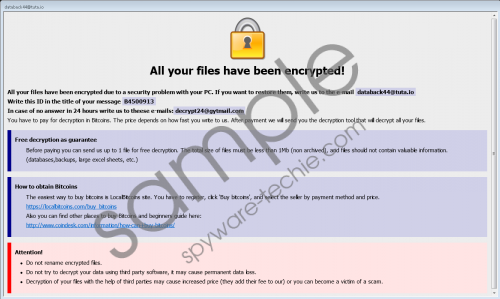 TEREN Ransomware screenshot
Scroll down for full removal instructions
What if TEREN Ransomware is launched? The malware might create data that is mentioned in our removal guide. Just keep in mind that the malicious application could have other versions that might work differently than our tested sample. In other words, the instructions we display might not be accurate. In any case, after settling in, the threat should start encrypting files like your pictures, documents, archives, and any other data that does not belong to Windows or programs installed on your machine. During the encryption process, all targeted files should become unreadable, and, as a result, you should be unable to open them. They should also get an extension that consists of a unique ID number, email address, and .TEREN. After the encryption process is done, TEREN Ransomware should display a ransom note on top of the victim's screen. It should say that the malware's creators have decryption tools that are needed to decrypt the threat's affected files. It should also say that the hackers are willing to trade the mentioned decryption tools in exchange for money.
While paying the ransom might be your only resort, we advise against it because, as said earlier, there are no guarantees that the malware's developers will hold on to their end of the bargain. If you decide that you do not want to deal with hackers, you should concentrate on the malware's deletion. Our researchers say that users can try erasing TEREN Ransomware manually while following the removal guide placed below. On the other hand, it might be easier and safer to employ a reputable antimalware tool that could eliminate TEREN Ransomware for you.
Erase TEREN Ransomware
Restart your computer in Safe Mode with Networking.
Click Windows Key+E.
Navigate to the suggested paths:
%TEMP%
%USERPROFILE%Desktop
%USERPROFILE%Downloads
Identify a file launched when the system got infected, right-click the malicious file and select Delete.
Find these paths:
%ALLUSERSPROFILE%\Microsoft\Windows\Start Menu\Programs\Startup
%ALLUSERSPROFILE%\Application Data\Microsoft\Windows\Start Menu\Programs\Startup
%APPDATA%\Microsoft\Windows\Start Menu\Programs\Startup
%WINDIR%\System32
Locate copies of the malware's launcher (the title could be random), right-click them and select Delete.
Go to this location %USERPROFILE%Desktop
Find a file titled FILES ENCRYPTED.txt, right-click it and choose Delete.
Navigate to these paths:
%APPDATA%\Microsoft\Windows\Start Menu\Programs\Startup
%ALLUSERSPROFILE%\Microsoft\Windows\Start Menu\Programs\Startup
%ALLUSERSPROFILE%\Application Data\Microsoft\Windows\Start Menu\Programs\Startup
%WINDIR%\System32\Info.hta
Look for documents called Info.hta, right-click them and choose Delete.
Exit File Explorer.
Press Windows Key+R, type Regedit and choose OK.
Navigate to this path: HKCU\Software\Microsoft\Windows\CurrentVersion\Run
Look for value names that could be related to the malicious application.
Right-click such value names and press Delete.
Close the Registry Editor.
Empty Recycle bin.
Restart the computer.
In non-techie terms:
TEREN Ransomware is a file-encrypting infection. The threat could be spread via various shady websites, spam emails, and so on. Once the victim launches it, the malware may settle in and start encrypting targeted files one by one. As usual for such threats, it seems to be after personal files like pictures, videos, and so on. The malware should try to complete this task without drawing the victim's attention. However, as soon as all targeted files get encrypted, the malicious application should reveal its presence by opening a pop-up window on top of the victim's screen. Our researchers say that the note might explain that the only way to restore files is to decrypt them with special decryption tools. Hackers behind the malware should claim to have such tools and offer them to you if you pay the ransom. As said earlier, you cannot be sure that you will get the promised decryption tools. Thus, if you have no wish to pay for something you might not get, we advise ignoring the ransom note. It is also advisable to erase TEREN Ransomware if you do not want to put your future files in danger. To find out how to get rid of it manually, check the removal guide above.