Do you know what TappyTop is?
TappyTop is a potentially unwanted program (PUP) that might also install a browser hijacker called Search.tappytop.com on the user's computer. Apparently, the software was created by an unreliable company that is known as Linkury. If you noticed the threat on the system, but do not know how to get rid of it, we can offer you a removal guide prepared by our specialists. It is placed below the article, although if you want to know more about the application or learn how to protect the computer from such suspicious software, we would advise you to read the article first. The rest of the text will provide users with information about the program itself and also about the browser hijacker that travels with it.
From the PUP's appearance, it is obvious that TappyTop is a browser, which was created using Chromium engine. This is why it looks almost exactly like the Google Chrome browser. When you install the threat, it should make itself your default browser. If you were using Google Chrome before, you might not see the difference at first since they are so similar. However, if you had a favorite search engine that you used daily, you should notice that instead of it the browser is suddenly loading search.tappytop.com.
This search engine cannot be trusted because it might collect the results with yahoo.com, but modify them before displaying. Altered results could show you advertising content that may come from the browser hijacker's third party partners. Moreover, the ads could be clickable as well, which would mean that they might redirect you to other web pages. Of course, the user should be redirected only if he interacts with the ads, but some of them could be targeted advertisements. If the offer seems tempting and you click an ad, you should be aware that some part of advertising may come from malicious web pages. The risk is that users could infect the computer with malware or expose their sensitive data while visiting suspicious websites.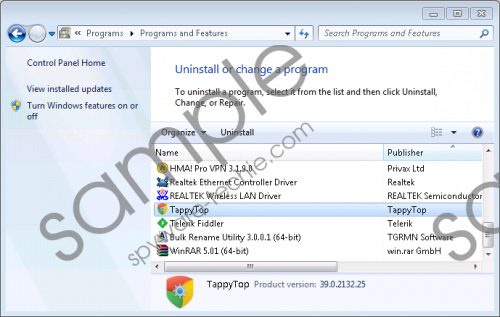 TappyTop screenshot
Scroll down for full removal instructions
Now that you know why TappyTop and Search.tappytop.com might be dangerous, you should also learn how they spread among users. Our researchers report that the PUP could be spread with bundled installers together with other doubtful programs. In most cases, bundled installers can be found on unreliable file-sharing web pages. Thus, we always advise users to download applications from sites that belong to reputable companies or have good user reviews. Also, it is important to mention that often bundled software is only suggested to the user, so if you carefully follow all installation wizard's steps you should be able to deselect unwanted programs. Even if the recommended application looks safe and useful, you should still check its reviews, ratings, publishers and other information before accepting.
The good news is that there are two ways to delete the PUP, and they are quite easy as well. Firstly, you can get rid of TappyTop while using the removal guide placed below the article. The instructions show all necessary steps to erase the threat through Control Panel. The other way to eliminate the PUP is to download a trustworthy antimalware tool. When the tool is installed and ready to use, you can launch it and set it to scan the system. The antimalware software should detect not only TappyTop but also the browser hijacker. After the scanning process is finished, the software will allow you to delete all of the identified threats with just one mouse click.
Remove TappyTop
Windows 8 & Windows 10
Press Windows Key+R.
Type Control Panel and click Enter.
Choose Uninstall a program.
Click TappyTop and press Uninstall.
Windows Vista\Windows 7
Go to Start menu.
Open Control Panel.
Click on Uninstall a program.
Select the application and click Uninstall.
Windows XP
Navigate to Start.
Launch Control Panel.
Pick Add or Remove Programs.
Mark the PUP and select Uninstall.
In non-techie terms:
TappyTop is a suspicious browser that our researchers categorized as a PUP. If the browser managed to settle on your system, it probably came with a hijacker that could change your default preferences. Our researchers recommend deleting the software because its usage might be dangerous to the system. You can get rid of the PUP with the removal guide above or erase it with a reliable antimalware tool. If Search.tappytop.com hijacked Google Chrome, you should take a look at its removal guide on our website.