Do you know what TabNav is?
TabNav is an adware application that you might inadvertently infect your system with if you keep downloading freeware or shareware from third-party file sharing sites. Do not to hesitate to remove this program, because it reaches target computers in the same manner as browser hijackers, PUPs, bad toolbars, and other types of dangerous software. Even though TabNav is mainly preoccupied with the showcasing of commercial advertisements, it is known to posses certain vulnerabilities that might even result in the collapse of your computer's system. So, bear in mind that TabNav is suspicious adware that you should delete right now.
Compatible with all the major web browsers, when TabNav reaches your PC, it activates the process abengine.exe*32 in the background of your system. This process means that the program is always active and even connects to the Internet without asking your permission. This established connection might allow TabNav deploy additional questionable components or send out information you store on your system.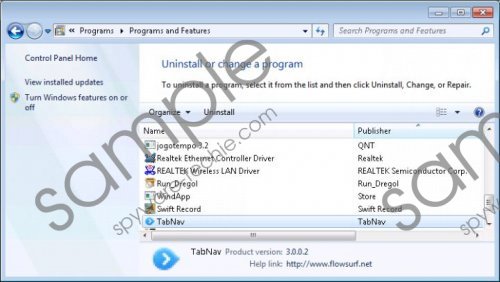 TabNav screenshot
Scroll down for full removal instructions
Be aware that the main aim of TabNav is to promote third-party advertising content, which equals to the increased amount of ads on your browser. The only way to wipe out all the annoying commercial links from your screen is to remove this program. You should also know that accessing the TabNav ads might redirect you to various unsafe sites that were set up by malicious entities. The presence of TabNav is especially alarming, as this program does nothing to make sure that the promoted links lead to the risk-free third-party sites.
TabNav was developed by the same collective that is responsible for another notorious adware program, FlowSurf. Both these applications are known to spread in the software packages (bundles) that can be downloaded from third-party download sites. Be especially vigilant when you install free software, because it is the most common way how users end up dropping additional unwanted, or even malicious, programs onto their computer. As TabNav, and other adware, rarely spread separately, it is possible that you have already inadvertently infected your system with multiple threats.
To make sure your machine is not being jeopardized by TabNav and other infections, it is important that you install a professional antispyware scanner. Although you might easily remove TabNav from Control Panel, it is still possible that you might overlook the existence of other adware or malware on your PC. Trusty antimalware tools are usually unrivalled when it comes to identifying even the sneakiest infections. That is why you should make sure this antispyware software is an integral part of your virtual security.
How to remove TabNav
From Windows 8 & 8.1:
Open the Charm bar and choose Settings.
Click Control Panel in the list.
Choose Small Icons under View by and go to Programs and Features.
Select TabNav in the program list.
Click Uninstall to remove the unwanted application.
From Windows 7 & Vista:
Open the Start menu and choose Control Panel.
Switch to Small Icons under View by and open Programs and Features.
Select the program you want to remove.
Click Uninstall.
From Windows XP:
Open the Start menu and choose Control Panel.
Choose to Category View on the left side and open Add or Remove Programs.
Select the application you want to delete.
Click Remove.
In non-techie terms:
TabNav is another adware application that can jeopardize the overall health of your computer. As long as this program is active on your computer, you will be served third-party ads of questionable reliability. Do not delay to remove this adware with a trustworthy antimalware program.