Do you know what T1Happy Ransomware is?
T1Happy Ransomware is a computer infection that has been created to steal money from innocent users. It is important to note that ransomware programs target both individual and corporate users. In other words, it means that no one is safe. If you got infected with this program, there is no need to panic because this infection can be decrypted. Nevertheless, you still need to remove T1Happy Ransomware from your computer, and for that, please scroll down for the manual removal instructions below this description. Make sure to do everything you can to terminate this malicious infection.
There might be many ways for T1Happy Ransomware to enter your system. It is always hard to pinpoint the exact distribution route because ransomware employs several distribution methods. The most common way for this type of infection to enter your system is spam emails. Sometimes spam emails manage to land into the main inbox, and users do not even realize that there is something suspicious about them. What's more, the spam emails that distribute ransomware might also look like legitimate notifications from reliable companies. Therefore, before you download an attached file and open it, you should ALWAYS check whether the message is something you have been waiting for.
Likewise, you shouldn't accept just any file that you receive via the Remote Desktop Protocol connection. If this type of connection gets compromised, you might receive social engineering messages that look like notifications from the people you know. However, clicking the links in such messages or downloading the attached files might also result in a malware infection. Finally, you might also accidentally download the installer file for T1Happy Ransomware when you download apps from third-party websites. Please choose downloading programs only from their official sources, as there is always a chance that a bunch of malicious programs could be bundled into one installer file.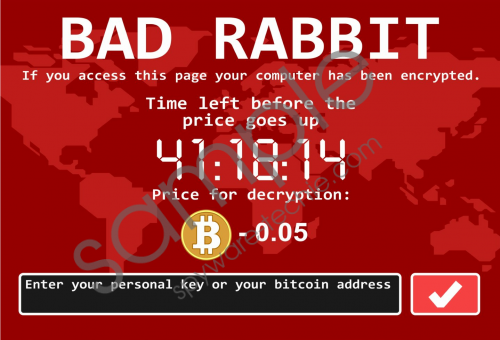 T1Happy Ransomware screenshot
Scroll down for full removal instructions
However, if T1Happy Ransomware still managed to enter your system, there is no need to panic because, as mentioned, you can reverse the effects without too much effort. On the other hand, you would still have to witness your files getting encrypted by this program. The infection targets files in the %ProgramFiles%, %ProgramFiles (x86)%, %SystemRoot%, %AppData%, %Temp%, and %UserProfile% directories. It means that this infection can lock up most of your personal files almost immediately. When the encryption is complete, you will see that all the affected files have a new extension added to their names. For instance, dog.jpeg will look like dog.jpeg.happy. Needless to say, there is nothing happy about it.
What's more, T1Happy Ransomware also deletes the Shadow Volume. Although regular users are not aware of this utility, if Shadow copies are enabled, it is possible to restore lost files with the help of a professional technician. T1Happy Ransomware, on the other hand, makes sure that users do not have such an option anymore. After that, it changes the desktop wallpaper, and displays a terrifying message in stark red that says the following:
BAD RABBIT
If you access this page your computer has been encrypted.
Time left before the price goes up
[countdown]
Price for decryption:
BTC – 0.05
Enter your personal key or your bitcoin address
Instead of paying these criminals, you need to look for a public decryption tool for T1Happy Ransomware that is available online. We are sure that you will find it without much difficulty, and when you do, you can decrypt your files. However, before that, do not forget to remove T1Happy Ransomware from your computer.
It is not that hard to terminate this infection, but if you do not feel that you can do it on your own, you can always invest in a powerful antispyware tool that will do the job for you. The point you have to remember is that relying on a security program alone may not be enough to solve your problems. Sure, you can remove malware with a security tool of your choice, but how about preventing them from entering your system?
This way, you would save time and money, so you should review your web browsing habits to avoid the likes of T1Happy Ransomware in the future. Please refrain from opening emails from unfamiliar senders and stay away from suspicious websites. Your system's security is in your own hands.
How to Remove T1Happy Ransomware
Press Win+R and type regedit into the Open box.
Click OK and go to HKEY_LOCAL_MACHINE\SOFTWARE\Microsoft\Windows\CurrentVersion\Run.
On the right side, right-click the Cortana value with the PathToRansomware value name.
Select to delete the value and exit Registry Editor.
Locate the PathRoRansomware folder and remove it.
Press Win+R and type %TEMP%. Click OK.
Delete the don.bmp file.
Scan your computer with SpyHunter.
In non-techie terms:
T1Happy Ransomware is a dangerous infection that wants your money. It tries to get them by holding your files hostage. You should never succumb to this. Simply remove T1Happy Ransomware from your system as soon as possible, and then look for ways to restore your files. If you have a system backup, you do not even look for the decryption key. Simply delete the corrupted files and then transfer the healthy copies back into your computer.