Do you know what Systheal Optimizer is?
Computer users who believe Systheal Optimizer to be a highly reliable and useful tool are mistaken. The seemingly legitimate application is a useless tool which has been created to take your money for no beneficial services in return. Because of this we advise that you delete Systheal Optimizer if you have installed it onto the operating system. If you have already attempted to remove this suspicious application from the computer, you must know that there is no uninstall entry you could use. Even if you find the folder holding the files of the potentially undesirable program, you will not find an uninstaller. Luckily, there is a way to remove this PUP, and you should do this it as soon as possible.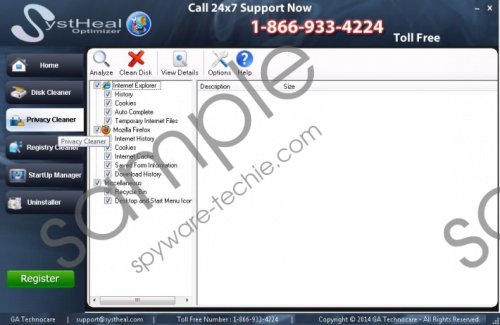 Systheal Optimizer screenshot
Scroll down for full removal instructions
Systheal Optimizer is a highly disruptive computer application because it scans the computer and then continues to remind you of supposedly existing problems related to the operating system, the Registry and your virtual privacy. The reappearing scanner reports are meant to push you into registering for the full-feature version of Systheal Optimizer if you have not done this already. Overall, whether you are worried about the removal of the trial version or the full-version, there is no doubt that GA Technocare (the developer) is already aware of your full name, email address, telephone number, and possibly other sensitive information. Unfortunately, even if you remove Systheal Optimizer, this data will remain accessible to certain parties. The same goes for the users of Speed Optimizer Pro, System Optimizer Pro, Optimizer Elite Max, and applications alike. Once you remove these programs, you need to be very careful about the scams which could involve your personal information. Remove spam email, beware of misleading texts, and look out for other scams potentially related to your virtual identity.
You need to remove Systheal Optimizer because this program is intrusive and unreliable. There are far more reliable system optimizers and security software you could use. As a matter of fact, it is high time you install automatic malware removal software. It will delete Systheal Optimizer quickly and efficiently, and this is not something you will be able to achieve if you choose the manual removal option.
Delete Systheal Optimizer from Windows
Delete from Windows 8:
Tap the Windows key to access the Metro UI screen.
Right-click on the screen and select All apps.
Open the Control Panel and click Uninstall a program.
Right-click the app you wish to remove and select Uninstall.
Delete from Windows Vista or Windows 7:
Click the Windows icon on the Taskbar.
Open the Control Panel and click Uninstall a program.
Right-click on the program you wish to remove and select Uninstall.
Delete from Windows XP:
Click the Start button on the Taskbar.
Open the Control Panel and double-click Add or Remove Programs.
Select the unwanted application and click Remove.
In non-techie terms:
Systheal Optimizer is a potentially undesirable program which scans the operating system and suggests the fixes of random system problems. Malware researchers indicate that the application cannot fix serious problems, which is why you should reconsider purchasing its full version. Since the manual Systheal Optimizer removal has been proven to be highly complicated in our internal lab, we suggest installing automatic malware removal software instead.