Do you know what System Notifier is?
Sometimes by downloading software from untrusted websites you might run into adware that can infect your system, and System Notifier is one of many such applications. Remove System Notifier because it is designed to deploy commercial content to your Internet browser, thereby transferring you to the promoted third-party sites in the process. This application is known for attempting to gain access to target computers via freeware bundles, which is why you should be extremely attentive when installing suspicious software. This software, especially the one you find on such unreliable sources like torrent sites, might be accompanied by additional applications that are potentially dangerous to your system. And System Notifier is one of them.
More experienced users shun adware applications because they have a tendency to turn into a nuisance over time, so remove System Notifier if you do not want to wade through the additional commercial content every time you surf the net. All these pop-ups, banners, in-text ads, and other forms of advertising are tailor-made in accordance with the marketing-type data System Notifier starts collecting the moment it gets on your system. Users are rarely explicitly informed about this kind of surveillance, so they remove System Notifier to prevent a potential violation of privacy.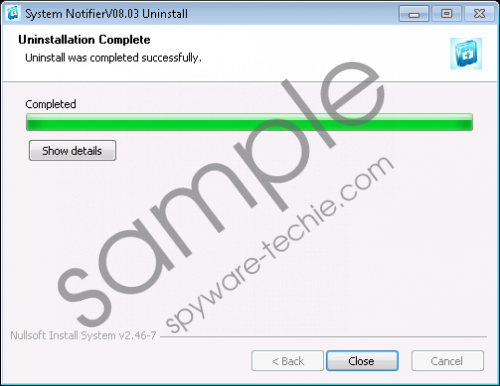 System Notifier screenshot
Scroll down for full removal instructions
And this is not the only reason why System Notifier is not reliable and thus should be removed from your machine. As an advertisement-serving application, it is not responsible for the content it promotes, so clicking on the featured links might not the best choice. Why? Because you might unexpectedly get rerouted to some random website that contains such malware as Trojans, rogues, ransomware, or other extremely dangerous risks. So deleting this application is be your only option if you want to terminate all the risks and annoyances it has burdened your daily web surfing with.
There is no need to keep System Notifier on your system; therefore, we recommend that you delete this adware application. You can perform this task relatively effortlessly via Control Panel, but bear in mind that System Notifier might have entered your machine with additional potentially dangerous applications. If this is the case, you should opt for automatic removal, which can be executed with the help of automatic malware removal tools. Dedicate some of your time to finding reliable antimalware software that will continuously scan your system and disinfect the threats.
Remove System Notifier
From Windows 8 & 8.1:
Go to the Start screen.
Click on the Search icon and type in "Control Panel."
Choose Control Panel in the list.
Under View by, select Small Icons.
Open Programs and Features.
Select System Notifier and click Uninstall/Change.
From Windows 7 & Vista:
Open the Start menu and select Control Panel.
Under View by, select Small Icons.
Open Programs and Features.
Select System Notifier and click Uninstall/Change.
From Windows XP:
Open the Start Menu and select Control Panel.
Click Switch to Category View.
Open Add or Remove Programs.
Select System Notifier and click Remove.
In non-techie terms:
System Notifier is an advertisement-supported application that not only feeds on the resources of your computer, but also endangers it by bombarding your Internet browser with unreliable third-party content. Remove this application by taking advantage of tested and trusted antimalware removal tools that also work as a firewall from the threats trying to gain access to your computer from the Internet.