Do you know what System Doctor 2014 is?
System Doctor 2014 is a rogue security program which you can accidentally acquire via drive-by downloads; for example, while browsing infected website, on clicking some link in a spam email, or in other ways. The application may also be downloaded as a legitimate file, which means that you should make sure that that your computer is protected against various computer threats.
System Doctor 2014, like Internet Security 2014, one of the latest rogue security programs, seeks to obtain the users money by trying to convince him or her that the computer is infected by a large number of computer infections. The fake AV provides fake pretends that it can scan the PC; the user can see what supposedly existing threats are detected. Moreover, System Doctor 2014 regularly displays system tray warnings that claim that, for example, your data is at risk, or that some nasty Trojan infection has been detected. In order to remove all the threats listed in the scan result window, you are supposed to buy the full version of the program, but do you really need this fake anti-virus software?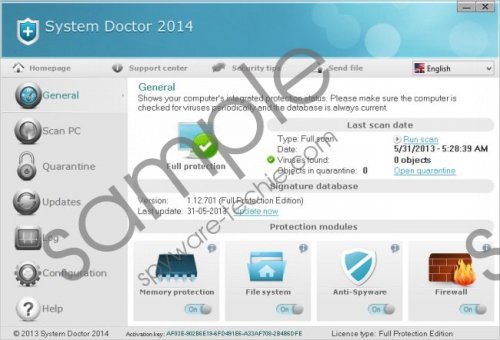 System Doctor 2014 screenshot
Scroll down for full removal instructions
By making a payment for the full version of System Doctor 2014, you will be forced to expose your personal information. Note that such data as your credit card number, CVV number, your name, and home address may be used for committing identity theft. For example, the schemers may attempt to withdraw your money from the back account or perform some other illegal actions.
The only thing that you should do when your computer gets infected with System Doctor 2014 is remove the bogus application so that the system can function normally. Use SpyHunter if you do not want to delete the threat manually. Our recommended program will also shield the system against various computer threats, so do not wait and get rid of System Doctor 2014 right now.
In non-techie terms:
System Doctor 2014 is a rogue security program which you should remove from the computer once you find that you are provided with suspicious alerts and system scans.
Aliases: SystemDoctor2014.