Do you know what Syrk Ransomware is?
Syrk Ransomware is an infection that, according to our research team, could still be in development. Whether this malware never evolves further or new modules are added to its functionality, we need to look at it as a serious threat because it appears to be capable of encrypting files. Once files are encrypted by this malicious threat, it is unlikely that anything can be done to restore them. Unfortunately, that is what the victims of most file-encrypting threats have to deal with. Therefore, if you have not encountered this malware yet, you need to do everything to ensure complete protection against it. If you already need to remove Syrk Ransomware from your operating system, please continue reading. You will find tips on how to delete this threat, as well as how to secure your system in the future.
When analyzing the malicious code of Syrk Ransomware, it was discovered that the threat encrypts files using a PowerShell command and that the ".Syrk" extension is appended to the original names afterward. Unfortunately, encrypting files is not the only thing that this malware is capable of. It was also found that it can kill Task Manager, Procmon64, and ProcessHacker processes, which, undoubtedly, is done so that victims could not track and terminate the processes of the malicious ransomware itself. Syrk Ransomware is also capable of disabling the Windows Defender and Windows User Account Controls. That is done by modifying the values in the Windows Registry (the DisableAntiSpyware value in
HKEY_LOCAL_MACHINE\SOFTWARE\Policies\Microsoft\Windows Defender and the EnableLUA value in HKEY_LOCAL_MACHINE\\SOFTWARE\Microsoft\Windows\CurrentVersion\Policies\System).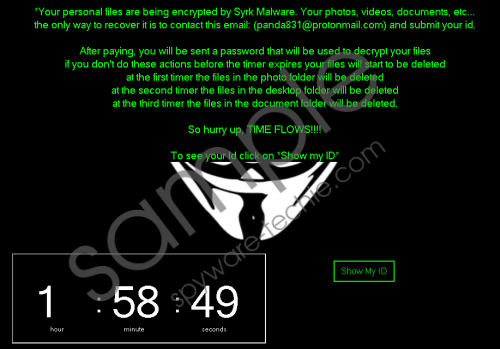 Syrk Ransomware screenshot
Scroll down for full removal instructions
Syrk Ransomware also drops quite a few files in %LOCALAPPDATA%\Microsoft, %PUBLIC%\Documents, and %USERPROFILE%\Documents\WindowsPowerShell\Modules\Cipher directories. Some of these files are hidden to prevent victims from deleting them effectively. The infection also drops one file onto the Desktop, and it is called "Readme_now.txt." According to the message inside, victims must send a message to panda831@protonmail.com if they want their files decrypted. The same message is delivered via a window that Syrk Ransomware launches, and this window also displays a timer. Once it runs out, encrypted files in Desktop, Documents, and Pictures folders (in %USERPROFILE%) are deleted. This is meant to speed up the response from the victims, but you should not obey the attackers. If you emailed them, you would be asked to pay a ransom, and if you paid it, it is unlikely that you would be able to restore your personal files. Cybercriminals cannot be trusted because all they care about is money.
While you cannot restore your personal files by deleting Syrk Ransomware, you must eliminate this threat from your operating system as soon as possible. If you decide to do it manually, you will need to find and remove every single component, and that is easier said than done. Some files can be hidden, and others can use random names to confuse you. On top of that, the launcher file could be anywhere. What we are trying to say is that manual Syrk Ransomware removal is not an easy task. That is why we strongly encourage victims to employ anti-malware software. It will automatically erase all malicious components, and you will not need to worry about security in the future as well. Note that if you decide to erase the threat manually, you will need to figure out how to secure your system yourself as well.
Remove Syrk Ransomware
Fin and Delete recently downloaded files to eliminate the launcher .exe file.
Move to the Desktop and then Delete the file named Readme_now.txt.
Simultaneously tap Win+E keys to launch Windows Explorer.
Enter %LOCALAPPDATA%\Microsoft into the quick access field.
Delete the files named +dp-.txt, -i+.txt, and -pw+.txt (these should be hidden).
Enter %PUBLIC%\Documents into the quick access field.
Delete the malicious files startSF.exe, LimeUSB_Csharp.exe, and [random name].exe.
Enter %USERPROFILE%\Documents\WindowsPowerShell\Modules\Cipher into the quick access field.
Delete the files named Cipher.psm1 and cry.ps1.
Empty Recycle Bin and then quickly install a legitimate malware scanner.
Perform a full system scan and then Delete any leftover threats that might be detected.
In non-techie terms:
When Syrk Ransomware slithers in, it can encrypt personal files silently. It can also terminate important processes and disable Windows utilities. Once files are encrypted, the infection launches a window with a timer and also creates a text file to push the victims to send the attackers a message. Once the timer runs out, some of the encrypted files are deleted permanently. That is what might push the victims over the edge. If you decide to send the attackers a message, they are likely to ask you to pay a ransom, and you might decide to pay it in the hopes of obtaining a decryption tool. We cannot know for sure what would happen if you did as told, but we doubt that a decryptor would be provided to you. That is why we suggest focusing on the removal of the infection instead of the ransom. To delete Syrk Ransomware, you can try following the guide above, but it might be best to install legitimate anti-malware software ASAP.