Do you know what Symbiom Ransomware is?
You may lose all your important files if a dangerous threat like Symbiom Ransomware finds a way to your computer and sneaks onto your system. This may sound like quite a nightmare and you really should take this infection seriously. Our researchers say that this ransomware is not really new in the sense that it is built on the good old Hidden Tear Ransomware just like other previous versions, including $ucyLocker Ransomware and HUSTONWEHAVEAPROBLEM Ransomware. If you want to feel safe in your virtual world, you should back up your files regularly and defend your PC with a proper security tool. Unfortunately, experience shows that cyber criminals almost never deliver the decryption key or tool so you would most likely lose your money, too, not to mention the fact that you would support cybercrime by paying. Although it is all up to you how you decide, our researchers suggest that you remove Symbiom Ransomware from your system right away.
Most ransomware infections are distributed via spamming campaigns, but this threat seems to use different methods to reach its victims. This malicious program poses as the cracked version of a popular PC game called Overwatch. The executable is named OverWatch_Hack.exe, which also suggests that this is a hack that would install this game for you. So it is more likely that you will download it from gaming forums and shady file-sharing sites, such as torrent and shareware pages. Let us say that you want to download this particular game that is quite popular. If you do not want to buy it, you may look for a pirated version. However, when you search for free programs or hacks on the web, you need to be prepared for search results that may take you to malicious file-sharing websites operated by cyber criminals. If you are not a regular downloader, you may not be familiar with most of the shady torrent and freeware pages set up by crooks. Therefore, it is possible that you end up downloading this file believing that finally you have found it. Installing this file though would initiate this attack right away and in the end, you would have to delete Symbiom Ransomware and probably say goodbye to your files.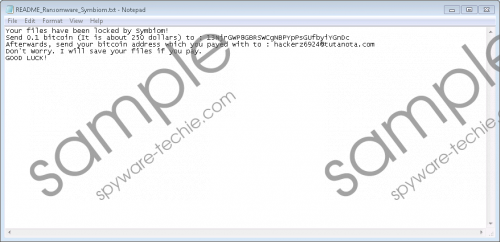 Symbiom Ransomware screenshot
Scroll down for full removal instructions
You also need to be very careful not to end up on malicious pages armed with Exploit Kits. You can be redirected to such pages if your computer is infected with, for example, adware programs, or when you click on unsafe third-party ads or links on modified search results pages generated by browser hijackers. These malicious pages with Exploit Kits are mostly dangerous when your browsers and your Java and Flash drivers are not updated properly. These kits take advantage of security holes in older versions and drop such infections the moment this page loads in your outdated browser. If you want to protect your computer, it is essential that you do not click on questionable third-party content and that you keep all your programs and drivers always updated. There is no use crying over spilled milk but it is not the best feeling to have to delete Symbiom Ransomware when you know that you may never be able to recover your files again.
Before this ransomware program starts up the encryption process, it drops its ransom note text file, "README_Ransomware_Symbiom.txt," on your desktop; not that noticing this file could give you enough time to react and stop the devastation. This infection uses the usual AES algorithm to encrypt your images, audios, videos, documents, and archives. Once a file is encoded, its name is changed to have a new extension, ".symbiom_ransomware_locked." This will show you clearly the extent of the damage if you check your file system. The only good thing about this infection is that it does not lock your screen and disable your major system processes. This makes it easier to remove Symbiom Ransomware.
If you open the ransom note file, there is not much information in it. You are told that your files have been encrypted and that you have to transfer 0.1 BTC (around 345 USD at the time of writing) to a give Bitcoin wallet address. Once you have done the transfer, you need to send an e-mail to "hackerz6924@tutanota.com" with the Bitcoin address you used for the transfer. Before you do anything, you should know that it is always risky to send money to criminals. It is one thing that you may not get anything in return but you would also inspire crooks to commit more online crimes. We advise you to remove Symbiom Ransomware ASAP.
Fortunately, it is not that complicated to eliminate this threat no matter how dangerous it is. All you need to do is locate the malicious executable and delete it. Please follow our guide below if you want to take care of this mess manually. If you want to make sure that malware threats cannot infiltrate your system to damage your files or cause other system security-related issues, you should use a trustworthy malware removal application like SpyHunter.
Remove Symbiom Ransomware from Windows
Tap Win+E.
Find and delete "OverWatch_Hack.exe", the malicious executable.
Delete the ransom note file, "README_Ransomware_Symbiom.txt", from the desktop.
Empty your Recycle Bin and restart your computer.
In non-techie terms:
Symbiom Ransomware is a dangerous malware infection that may encrypt all your important files and demand a relatively high amount of ransom fee for the decryption. Since in such an attack you can lose all your personal files, it is important to save regular backups somewhere safe, such as on a removable hard disk. After such an attack you could easily copy the clean files back as long as you remove Symbiom Ransomware from your system. We do not recommend making any contact with these criminals or paying them the ransom fee. If you want to protect your computer from similar threats, you should employ a reliable anti-malware program.