Do you know what SweetSurpriseSlots is?
SweetSurpriseSlots is none other than a potentially unwanted program that you can remove without any hesitation. As the name suggests, the application is a candy-themed slot machine game that many users will enjoy. It is fun and colorful. However, the application is ad-supported so you will not get to play this game without giving something in return. The application is set to collect information about the users and their browsing preferences. So if you do not like sharing information with annoying advertisers, we suggest that you remove SweetSurpriseSlots.
The application is a product of Codewalla Studios Games. The company is specializes in developing browser based flash games that are a great deal of fun. SweetSurpriseSlots is advertised and can be downloaded from a website, called Sweetsurpriseslots.com. To our knowledge, the website is the only means for distributing the application. The website even features not one, but two, download buttons. Having two download buttons serves no purpose, so we were baffled by this fact.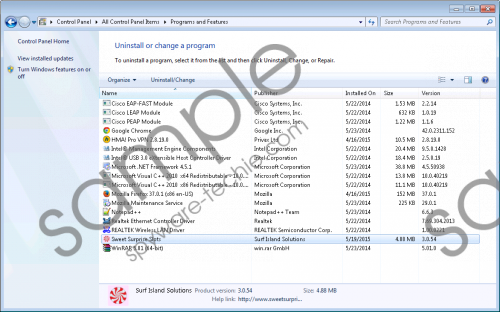 SweetSurpriseSlots screenshot
Scroll down for full removal instructions
If you download and install SweetSurpriseSlots, it will start to display commercial advertisements in the form of pop-ups, banners, coupons, and so on. Some users might find these ads annoying and some will not. Those who do find the ads annoying should remove SweetSurpriseSlots, because you cannot have this application without having to put up with advertisements. It is said that the developers of this application have to display advertisements on their website and elsewhere in order to recover at least some of the development costs.
The application also collects information about the user's browsing habits by utilizing browser cookies. So the developers can gather all kinds of relevant and irrelevant information about the user in order to adjust their marketing strategies. The developers can know what kind of browser you are using, what kind of operating system you are using, web pages that you have visited and links that you have clicked. The developers need this information so that they can promote their content on third-party websites and vice versa. They customize the advertisements according to the user's browsing preferences in order to increase the chance of a click. You might want to remove SweetSurpriseSlots, because the developers combine personally identifiable information with non-personal information and share it with third-parties.
All in all, SweetSurpriseSlotsis is not a trustworthy application. After you install it, it will begin to display commercial advertisements created by the developers themselves or by third-parties. You should remove this application if you find the advertisements annoying or intrusive. In any case the decision is yours to make. You should also take into consideration the fact that the application is able to collect information about you and your browsing preferences.
Remove SweetSurpriseSlots from your operating system
Windows 8/8.1
Open the Sidebar by moving the mouse cursor to the bottom right corner of the screen.
Click Settings and select Control Panel.
Open Programs and Features.
Find SweetSurpriseSlots, right-click on it, and click Uninstall.
Windows 7/Vista
Open the Start menu and click Control Panel.
Select Uninstall a program.
Find SweetSurpriseSlots and right-click on it, and click Uninstall.
Windows XP
Open the Start menu and click Control Panel.
Open Add or Remove Programs.
Find SweetSurpriseSlots.
Click Uninstall.
Remove the SweetSurpriseSlots browser extension
Internet Explorer
Press Alt+X.
Open Manage Add-ons.
Select Toolbars and Extensions.
Click Remove SweetSurpriseSlots and click Close.
Mozilla Firefox
Press Ctrl+Shift+A.
Select Extensions.
Click Remove SweetSurpriseSlots.
In non-techie terms:
SweetSurpriseSlots is a potentially unwanted application that you might want to remove, because it displays commercial advertisements and it can collect information about the user and share it with various third-parties. The application itself is not malicious. In fact the game can be a lot of fun. Therefore, it is all up to you to decide whether you want to keep it or not.