Do you know what SurFilters is?
SurFilters is a suspicious application that is advertised as a useful tool if you wish to filter inappropriate content while surfing the web. At first sight, it might seem like a great tool to have. Unfortunately, its functionality is questionable, to say the least. In fact, due to its invasive ability to change your browser's settings and provide undesirable content while you are browsing the web, malware experts at Spyware-Techie.com have dubbed it as one more potentially unwanted program that you should avoid and even remove if it is found active on your PC. For further information regarding the inner works of SurFilters be sure to read the rest of our report. To completely remove this intrusive application from your computer, simply follow detailed instructions below.
Unfortunately, SurFilters does not function in the way you would expect. Its ability to filter inappropriate or otherwise suspicious content is rather poor. Instead, this potentially unwanted program will make undesirable alterations to your web browser's default settings as soon as it gains full access to your operating system. The main modifications that this suspicious program is responsible for are of your default home page and new tab page. These changes are mainly triggered and kept in place by a questionable third-party extension. It goes without saying that this will make surfing the web a much more frustrating experience than you are used to because you will be forced to use a suspicious third-party website as your default home page. You will also be presented with that same site every single time you will open a new tab page even if you do not like that. It is also important to note that this program could provide you with an unusually large amount of undesirable third-party online content. In most cases, such content manifests as various commercial ads, coupons, and pop-ups. Unfortunately, none of them can be considered useful in any way. Such functionality is possible because the devious third-party extension can initiate a lasting connection to suspicious adware servers. Keep in mind that in some instances your web browser could be flooded so much with undesirable content that it might crash without any warning. Your best bet to browse the web without interruptions once again is by conducting a complete removal of SurFilters as soon as possible. Do so by using the instructions below; failing to remove it, means that you will continue to be bothered by invasive changes and questionable web content.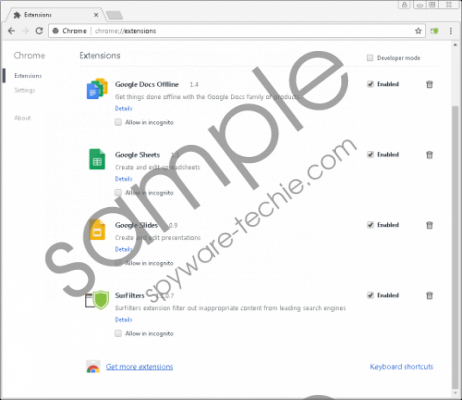 SurFilters screenshot
Scroll down for full removal instructions
The main reason our research team advises your to get rid of SurFilters if it is ever found active on your PC is the fact that it could prove to be the primary reason other suspicious programs might enter your operating system without a lot of trouble. Upon further investigation, it has been found out that using the search field on a suspicious website that is set as your default homepage could be quite dangerous. That is so because results provided by the questionable search engine could prove to be modified. This means that they might be implemented with redirect links, which could lead you to suspicious and even potentially malicious websites. There is a chance that you could end up on fake online shops, which are crafted for a sole reason of stealing your credit card data. Thus, if you ever encounter a questionable online store be sure to learn about it as much as possible before making any purchases. In other instances, you could end up on sites that runs an arbitrary code execution exploit and just entering such a web page could prove to be enough to get your PC infected with some unknown malicious application. While such search results do not occur frequently, having SurFilters could lead to undesirable outcomes. Make sure to remove it without second thoughts.
The removal of SurFilters should be your utmost priority if you consider yourself a security conscious user. As soon as you are done with the manual removal, we recommend rechecking your entire operating system for potential leftovers. This is important since only a complete removal of SurFilters will help you restore your web browser's default settings. Note that its traces could be used in devious ways. For example, just a few traces of this questionable program could be more than enough for it to function. In other situations, its leftover might be the primary reason SurFilters could be restored.
How to remove the SurFilters from your web browser
Google Chrome
Start your web browser.
Click the Chrome Menu button select Settings.
Click Extensions.
Click the Trash can icon next to the unwanted extension.
Select Remove to confirm your choice.
How to reset your web browser
Google Chrome
Start your web browser.
Click the Menu button.
Click Show advanced settings and select Reset settings.
Click the Reset option to confirm your choice.
In non-techie terms:
If you are a user that finds manual removal a bit too complicated, do not worry. Our researchers have crafted an alternative removal guide. By following the instructions that we present below you will be able to delete every single bit of SurFilters in a fully automated manner.