Do you know what Superfish Window Shopper is?
Superfish Window Shopper is a browser plugin that presents you with shopping and coupon deals. These deals are supposed to provide you with better online shopping opportunities, but Superfish Window Shopper advertisements might lead the user to third party websites that host malware and/or other potentially harmful software. Therefore, even though Superfish Window Shopper is not a computer virus, it might be instrumental in distributing computer threats over the Internet. Especially, if the extension is exploited by cyber criminals. Thus, it would be better to remove Superfish Window Shopper from your computer, and prevent this from happening.
In general, Superfish Window Shopper might come across as a fairly useful application, because whenever you browse online shopping sites (like Best Buy, eBay or Wallmart), a small icon appears at the purchase photo, giving you more options of a similar deal. The icon is called "See Similar". Also, Superfish Window Shopper embeds advertisement links in underlined keywords all over the page. Although this advertising practice is not illegal, if Superfish Window Shopper is used by third parties, you can find yourself in dangerous websites where malware infections lurk just behind the corner.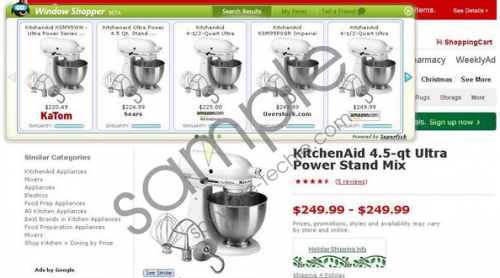 Superfish Window Shopper screenshot
Scroll down for full removal instructions
Superfish Window Shopper comes with other similar freeware applications, including Yontoo Client and CouponDropDown. These applications are also potentially harmful browser extensions, so Superfish Window Shopper being in the same company cannot mean anything good. You should carefully review the installation wizard windows, whenever you install a free software on your computer, to avoid something like these browser extensions. Although Superfish Window Shopper is not a dangerous computer threat, users are advised to remove it from their computer as to avoid getting infected with malware.
Remove Superfish Window Shopper from Windows
Windows 8
1. Drag mouse cursor to the bottom left corner of the screen and wait for the minimized metro icon to show up.
2. Right-click the icon and select Control Panel.
3. Go to Uninstall a program and remove WindowShopper.
Windows Windows Vista & Windows 7
1. Go to Start Menu -> Control Panel --> Uninstall a program.
2. Locate WindowShopper on the list and uninstall it.
Windows XP
1. Go to Start Menu -> Control Panel --> Add or Remove Programs.
2. Uninstall WindowShopper.
Remove Superfish Window Shopper from you browser
Internet Explorer
1. Press Alt+T and click Tools.
2. Remove WindowShopper from Toolbars and Extensions.
Mozilla Firefox
1. Press Ctrl+Shift+A.
2. Remove WindowShopper from Extensions.
Google Chrome
1. Press Alt+F and click Tools --> Extensions.
2. Remove Superfish Window Shopper from the list.
After manual removal perform a full system scan with a legitimate antimalware tool, just to make sure that no dangerous file remain in your system. Investing in an antimalware program is also a good idea, because that would protect your computer from serious infections.
In non-techie terms:
Superfish Window Shopper is a browser extension that displays online shopping-related advertisements. Some of the ads might lead to corrupted third party websites, thus exposing you to malware. We recommend removing Superfish Window Shopper from your system to prevent dangerous security breaches.
Aliases: Superfish Shopper.