Do you know what Super PC Cleaner is?
If you want to have an application to keep your operating system secure and clean, you should have second thoughts about Super PC Cleaner. According to our researchers, this program may not be as reliable as it promotes itself to be, and it may start to operate questionably. Therefore, it has been categorized as a PUP, which is short for potentially unwanted program. Unfortunately, the free version of this PUP is totally worthless, and it is simply used to make you register so that you pay for the full version. But, what if even that does not prove to be "super"? Why would you spend money on software that is unreliable? It is definitely worth researching security programs before you download and trust one. After careful research done in our internal lab, we have arrived at the conclusion that it is best to remove Super PC Cleaner from your computer. For the details, please continue reading.
You can download this PUP directly from its official site at supercleansystem.com. However, if you have an active antimalware program, such as SpyHunter, protecting your operating system, you will be warned that you have downloaded a file that poses "multiple threats" to your computer. That should already help you decide if it is worth having or keeping Super PC Cleaner on-board. But, if your PC is not protected, of course, you can download this PUP without any problem. Nevertheless, we do not believe that this is how most users get this program onto their machines. It is much more likely that this PUP arrives in a free software bundle.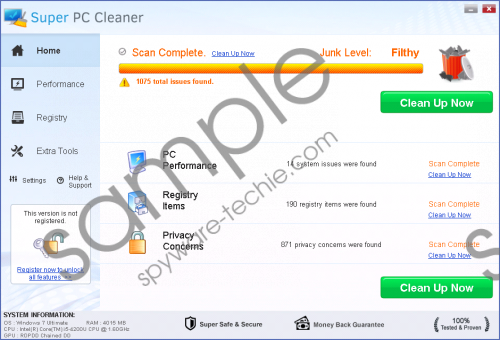 Super PC Cleaner screenshot
Scroll down for full removal instructions
It is important to keep in mind that bundles can be unreliable. Of course, there are totally reliable and authentic software bundles that contain useful third-party tools alongside a free program. The problem is that schemers tend to use this method to deliver malware infections to unsuspecting users' computers. These infected bundles may be packed with several adware applications, browser hijackers, and potentially unwanted programs as well. That is why it is so important for you to choose reputable websites to download software from. If you end up on a questionable shareware site, you can expect to download such a bundle. In this case, we advise you to delete Super PC Cleaner and identify all the other potential threats. For that, you can use a free online malware scanner.
Just like other similar useless products, such as Pro PC Cleaner, Super PC Cleaner also claims to keep your system secure and protect your Windows from clutter; however, it seems to operate rather suspiciously. When you run a free scan, it ends within 10 seconds and returns a report claiming over a thousand junk files found that supposedly "slow your PC down." But no details are shared with you as to what these files and issues are, only the number, in order to make you want to register right away. Even if you buy this product, there is no guarantee that it will really speed up your PC or protect it. We recommend that you remove Super PC Cleaner because it is not a reliable security tool.
If you finally decide that you really want to keep your PC secure, we are here with the solution for you. In order to eliminate this annoying PUP, you need to uninstall it through Control Panel. If you have never uninstalled applications before, you can use our guide below this article. Also, remember that you would not have to deal with this infection now and possible malware threats as well, if you had proper protection on your PC. We suggest that you use a trustworthy malware removal tool to automatically solve all your security issues and protect your computer from future attacks.
How to remove Super PC Cleaner from Windows
Windows 8, Windows 8.1, and Windows 10
Press Win+I and access Control Panel.
Open Uninstall a program.
Click on the application and press Uninstall.
Windows Vista and Windows 7
Tap Win+R and type in Control Panel. Click OK.
Access Uninstall a program.
Click on the application and press Uninstall.
Windows XP
Click Start and choose Control Panel.
Select Add or Remove Programs.
Click on the application and press Remove.
In non-techie terms:
Super PC Cleaner is a questionable application that claims to secure your PC, but there is greater chance that it brings malware infections on-board than there is of its being a useful tool for you. As a matter of fact, this is a potentially unwanted program whose presence may indicate that your operating system has become more vulnerable. Since the free version of this software is completely useless, too, we advise you to remove Super PC Cleaner along with all potential malware threats.