Do you know what Super Cleanup is?
Super Cleanup is one of the many system optimization tools out there that should not be trusted. Luckily, this application is not a direct computer security threat, so even if its interface pops up into your screen out of nowhere, there is no need to panic. Since it is a potentially unwanted program, you just need to open Control Panel and uninstall Super Cleanup from your system. On the other hand, you might want to check whether your system does not suffer from other similar applications. To do that, you should scan your PC with a reliable antispyware tool.
To be honest, we have dealt with similar applications before. Our research team says that Super Cleanup is identical to Advanced PC Tuneup, which is also a system optimizer. Both programs are available out in the open at their official websites. You can download Super Cleanup from supercleanup.com, and it does not look like there is anything suspicious about this tool. However, our research shows that the application has been developed and signed by Jawego Partners LLC, and this provider is often regarded as suspicious. Hence, if you happen to have this application installed, you will do yourself a favor by removing it today.
When we open the official website, we see a lot of information that tries to convince us this program is really useful. Super Cleanup is presented as "one of the best registry cleaners," that can boost "PC performance by removing all registry errors," and optimize "your system for best performance." Needless to say, that sounds like a good idea, but the question is whether Super Cleanup can really do it. To check whether these claims are true, we ran this program in our testing environment. During our tests, we have found a lot of perplexing things about this application.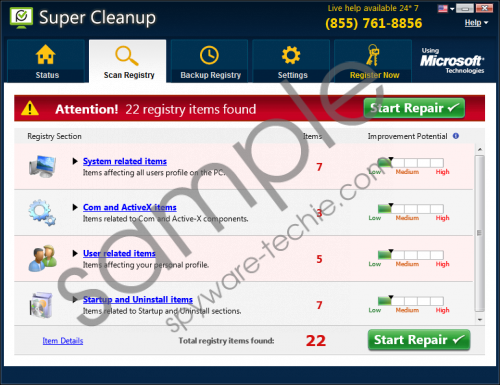 Super Cleanup screenshot
Scroll down for full removal instructions
For instance, it says that it can clean your registry by removing all the harmful registry entries. However, during our test, Super Cleanup detected only very few registry issues, none of which were critical. So it does not find real problems on your computer, but even so, the application requires you to purchase the full version of the program for $39.95 to "fix" all the detected issues. It is very doubtful whether the full version of the program would be able to find all the redundant registry entries, too. Therefore, computer security experts would recommend against purchasing the license for Super Cleanup.
Here you might say that you did not download Super Cleanup from its official website, and this program seems to have entered your system uninvited. If that is the case, then it is very likely that the application came bundled with some freeware program you downloaded from a file-sharing website. If you often get your applications from third-party sources, you have to be really careful when you run the installation wizard because it might inform you about some additional apps or features. In most cases, the installation wizard allows you to deselect the programs you do not want, but you skip those steps, all the programs and features get installed by default. Consequently, the likes of Super Cleanup enter your system too.
So it is not just about the security tool that you use. It is also about your web browsing habits, and they are really important when it comes to protecting your system from potentially unwanted programs. What's more, if Super Cleanup really came in a software bundle, there is a chance that you installed more than one unwanted program with it. If you have been experiencing sluggish computer behavior lately, you might as well want to scan your system with the SpyHunter free scanner to see if there is something off.
If you want to remove Super Cleanup, you can simply delete the program via Control Panel. However, after manual removal, you need to look for other unwanted applications. If you do not trust your skills, invest in a licensed antispyware tool that will do the job for you. What's more, by acquiring a security tool of your choice, you will also safeguard your PC from similar intruders in the future. Just make sure you stay away from third-party software sources, too.
How to Remove Super Cleanup
Windows 10 & Windows 8.1
Press Win+R and type Control Panel. Click OK.
Go to Uninstall a program and remove Super Cleanup.
Windows Vista & Windows 7
Open the Start menu and click Control Panel.
Select Uninstall a program and delete Super Cleanup.
Windows XP
Click the green Start button and select Control Panel.
Open Add or remove programs and uninstall Super Cleanup.
In non-techie terms:
Super Cleanup is not a malicious computer infection, but this program might enter your system unexpectedly. The application is a potentially unwanted program, which means it has certain undesirable features. Therefore, if you see that this program runs on your PC, you should see to it that you remove Super Cleanup as soon as possible. If you have questions about similar software, please feel free to drop us a note. We are always ready to help you with securing your computer against potential threats.