Do you know what SunnyDay-App is?
SunnyDay-App will most likely not make your day sunny if it infiltrates your system and shows up in your browsers in the form of annoying third-party advertisements with labels like "Ads by SunnyDay-Apps" or "Provided by SunnyDay-Apps." Our researchers say that this is a totally useless application that comes from the notorious SuperWeb ad-supported program family. This adware may expose you to potentially unsafe web content through the third-party ads it keeps displaying on your screen while you are surfing the web. You may think that you can easily avoid these ads or simply close them. However, the flow of ads will not stop until you actually remove SunnyDay-App from your system. What's more, it is quite likely that the presence of this adware is a sign of other malware infections hiding on your computer. But find out more by reading our full report.
When you visit the promotional webpage at sunnyday-apps.com, all you can find out about this alleged application is that it will help you "find enhanced content" whatever that means. The simplicity of this page is quite suspicious if you consider that a 3 year-old kid could design better in ten minutes. In other words, you can clearly see that the creators of this page did not really put too much effort into it. And, it only gets worse when you realize that the supposed download page is fake, too, that is it does not function at all. This is rather suspicious and makes you question the reliability of SunnyDay-App. If you wonder if it can get any worse, we can confirm right now: Yes, it can.
Just like all other members of the SuperWeb family, this adware can also be found distributed in freeware bundles. Normally, it would not be a "crime" to find free software bundled with other third-party applications that are reliable and may be useful for computer users. The problem is when such a bundle is packed with malware infections and used for malicious purposes. Such a bundle can contain Trojans, adware programs, browser hijackers as well as potentially unwanted programs. Imagine installing such a bunch onto your computer. In this case, there is only one thing you can do to protect your computer: You need to run a malware scanner to identify all possible threats after you delete SunnyDay-App.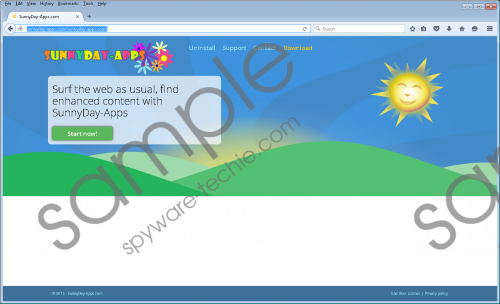 SunnyDay-App screenshot
Scroll down for full removal instructions
This application has nothing to do with helping you find enhanced content or anything else. SunnyDay-App is a typical adware that shows pop-up and banner ads on your screen in order to make money by routing web traffic to affiliated websites. Since every click counts, you can imagine that this adware does everything it can do to draw your attention and make you click. This means that this adware can collect information about your browsing habits, including your search keywords, how much time you spend on sites, which ads you tend to click on, and more. Based on this information targeted ads can be sent to your screen. However, this can also be misused by cyber criminals who may pose as third parties in an attempt to redirect you to their fake websites. Landing on such a site could be quite detrimental to the health of your computer, not to mention your privacy and your bank accounts. We advise you not to engage with any content that may come from this adware.
As a matter of fact, if this application is on board, it is also possible that you are not safe to click on any third-party ads even if you are on a reputable website, such as Amazon and YouTube. This adware may embed corrupt links into these ads and redirect you to malicious websites. All in all, we believe that you should not hesitate to remove SunnyDay-App.
If you want to make sure that no leftover remains after cleaning this infection from your system, we advise you both to uninstall it via Control Panel and to reset your browsers. If you need help with these, please follow our guide we have included below. Since there is a good chance that SunnyDay-App is only one of the threats on your computer, you should not stop here. If you do not want to hunt down all infections individually and manually, we suggest that you download and install a reliable malware removal application.
Remove SunnyDay-App from Windows
Windows XP
Access the Start menu and select Control Panel.
Choose Add or Remove Programs.
Click on the uninstaller and press Remove.
Windows Vista/Windows 7
Tap Win+R and type in Control Panel. Press the Enter key.
Select Uninstall a program.
Click on the uninstaller and press Uninstall.
Windows 8/Windows 8.1/Windows 10
Tap Win+X and choose Programs and Features.
Click on the uninstaller and press Uninstall.
Reset your browsers
Google Chrome
Tap Alt+F and open Settings.
Click Show advanced settings at the bottom.
Click Reset settings at the bottom of the page.
Press Reset.
Internet Explorer
Tap Alt+T and go to Internet Options.
Click on the Advanced tab and press Reset.
Mark the Delete personal settings checkbox.
Click Reset and click Close.
Mozilla Firefox
Tap Alt+H and go to Troubleshooting Information.
Click Refresh Firefox.
Click Refresh Firefox again in the pop-up window.
Press Finish.
In non-techie terms:
SunnyDay-App is a newcomer in the annoying and potentially harmful adware family called SuperWeb. This application has no real function apart from displaying potentially unreliable third-party advertisements while you are online. These are not only disruptive, though. Engaging with such ads may be risky because you may be redirected to unsafe websites. It is possible to let more infections onto your computer or become the next victim of an online scam. If this adware is on board, it is also possible that otherwise legitimate third-party ads get hijacked and thus may link to malicious websites. We recommend that you remove SunnyDay-App as soon as possible. If you do not prefer manual action, we suggest that you use a reputable anti-malware program to automatically clean and protect your PC from similar attacks.