Do you know what Sumnum is?
Sumnum is a suspicious Google Chrome extension with the description that does not tell much about it and how it is going to act after the installation: "With 'sumnum' you need to choose the right number so eventually it will get the same sun om each row and coloumn." Even though it has a homepage and it is available at the Chrome Web store, it seems that the majority of users know nothing about its appearance on their computers, which suggests that it usually shows up on PCs without the users' consent. The reason why you have it installed on your system does not change anything – you should still remove Sumnum from the list of Google Chrome add-ons as soon as possible. You cannot let it stay because it is not a trustworthy extension that is going to do something good to you. Instead, our experienced specialists tend to call it a potentially unwanted program, or PUP because it is not, technically, a malicious application, but it might still act undesirably. It will become clear what we have in mind by saying "undesirably" if you continue reading.
If you open the homepage of Sumnum, which is http://yearlia.com/yearliator12?utm_source=zeropark, you will immediately notice that it is promoted as a beneficial application that grants full access to SPORT TV live games for free, which shows that it primarily targets sports fans. Some users believe its promises to act beneficially and decide to try it out, i.e. click on the Add To Chrome button and install it willingly. Nobody blames them for installing this piece of software; however, this does mean that users should keep Sumnum active on their computers. There is a reason our experienced specialists have a negative opinion about this extension. Research conducted by them has revealed that it has nothing to do with sports and sports television channels. It seems that the only purpose it has been developed is to collect certain information about users. It has become clear what types of information it records on users' PCs after checking its Privacy Policy document. First, it gathers technical information, i.e. certain information about the user's machine, e.g. version of the operating system, IP address, Internet Service Provider, etc. Second, it is interested in the so-called usage information which includes the list of websites users visit, advertisements they view, search queries, and date of their searches. Third, it collects certain details, such us users' interactions, on social networks. Finally, it records information users provide when registering for the service and when they communicate with support. The same document tells us that it may share the information collected with third parties. Usually, this is where all the problems begin, so delete Sumnum today to prevent them from occurring.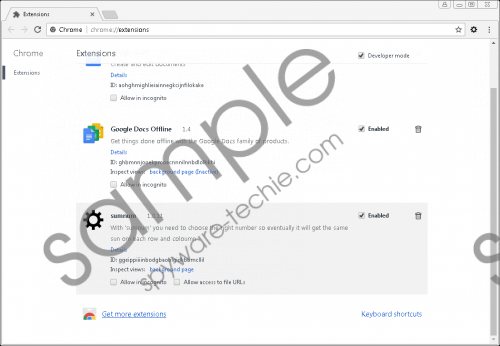 Sumnum screenshot
Scroll down for full removal instructions
Despite the fact that Sumnum has an official website and can be downloaded from the Chrome Web store, it might be spread differently too and enter users' PCs unnoticed, specialists say. They have managed to find out that this potentially unwanted program might travel bundled in software bundles. Also, users might see pop-ups advertising it and install it on their PCs with a single click on such an advertisement. In most cases, such ads indicate that an ad-supported application distributing commercial advertisements is actively working on the system. It is not always a piece of cake to protect the system and make sure no malware can enter the system, so, in the opinion of our experienced researchers, there must be a security application enabled on all users' PCs.
Potentially unwanted applications are far from malware, so it is usually easy to get rid of them. In the case of Sumnum, all you need to do is to open the add-ons manager, select the extension you wish to remove, and click the remove button. If this does not sound very easy, you should use our manual removal instructions. You can also delete this PUP from your PC with an automatic scanner.
Remove Sumnum
Google Chrome
Open Google Chrome and press Alt+F.
Click More tools.
Select Sumnum from the extensions menu and click on the Recycle bin button.
Click Remove.
In non-techie terms:
Sumnum is not a beneficial application that will make it possible to watch various live sports online. It has been found that it has nothing to do with sports, and, most probably, it has been developed with the intention of getting information about users only. This data can be expensively sold these days, so we are sure that disreputable companies will not stop developing such applications soon. Do not worry; there is a way to protect your PC from them – install a reputable security application.