Do you know what SuddenlyMusic Toolbar is?
SuddenlyMusic Toolbar is an advertising-supported program that passes itself off as a useful music-centered toolbar in order to guarantee its access to target computers. Do not delay removing this adware application, as all the features it promises are superficial at best. SuddenlyMusic Toolbar boasts of possessing seemingly unique features in order to prolong its existence on target systems for as long as possible. However, in practice, the primary objective of this toolbar is to display third-party commercial ads. In other words, it is likely that the amount of pop-ups, banners, in-text ads, coupons, and other commercial content will only increase since the appearance of SuddenlyMusic Toolbar on your machine. Be aware that these third-party ads contain unpredictable content that can be used to expose your computer's security to malware or other Internet-based threats.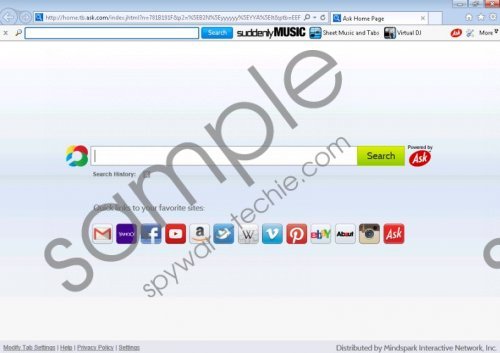 SuddenlyMusic Toolbar screenshot
Scroll down for full removal instructions
The minute SuddenlyMusic Toolbar steps into your system, it hijacks your browser by switching your homepage and default search engine to ask.com. This is nothing more than aggressive behavior that you should stop from escalating further by deleting SuddenlyMusic Toolbar the minute you notice the settings have been changed. Although, prior to the installation, this program indeed informs you about the forthcoming modifications, which you can deselect on the installation wizard, it does not make SuddenlyMusic Toolbar any less suspicious. For example, this application insists that you utilize ask.com as your default search provider, because this site is employed by this program to promote third-party links. This toolbar severely compromises the whole browsing experience, so think about whether it is not best to remove it right now.
SuddenlyMusic Toolbar belongs to the Mindspark family of toolbars (VerifiedVPN Toolbar, PuzzleGamesDaily Toolbar, SnapMyScreen, etc.) that aim to sway users with various unique capabilities. As for SuddenlyMusic Toolbar, the official site suddenlymusic.com/index.jhtml lists such features as free sheet music and lyrics, tips on composing music, and even karaoke, among others. Bear in mind that as soon as you install this seemingly beneficial toolbar, it might start collecting information about your online surfing patterns, or downloading additional questionable components to establish itself on your PC.
As any other adware program, SuddenlyMusic Toolbar can be misused to take advantage of the vulnerabilities present in your security system. Hurry to remove this application if you want to continue using your computer without worrying about facing unexpected dangers. Thankfully, it is possible to delete this toolbar from Control Panel. Some web browsers are not susceptible to this removal method, so you might need to terminate this app by restoring your browser's settings. The best way to complete the removal is to scan your computer with a reliable antimalware tool that will terminate all the remaining threats.
Remove SuddenlyMusic Toolbar from your computer
Windows 8 & 8.1
Press the Windows key + R.
Type "control panel" in the box and press Enter.
Open Programs and Features and select SuddenlyMusic Toolbar in the program list.
To remove the application, click Uninstall.
Windows 7 & Vista
Click the Start button to open the Start menu and choose Control Panel.
Open Programs and Features and choose SuddenlyMusic Toolbar in the list.
To delete SuddenlyMusic Toolbar, click Uninstall.
Windows XP
Click the Start button to open the Start menu and go to Control Panel.
Open Add or Remove Programs and select SuddenlyMusic Toolbar in the program list.
To delete the unwanted program, click Remove.
Remove SuddenlyMusic Toolbar from your web browser
Mozilla Firefox
Press Alt + H.
Choose Troubleshooting Information.
Click Refresh Firefox twice.
Reopen Mozilla Firefox.
Google Chrome
Press Alt + F.
Choose Settings.
Scroll down and click Show advanced settings.
Scroll down to the bottom of the screen and click Reset settings.
Click Reset and restart Google Chrome.
In non-techie terms:
SuddenlyMusic Toolbar is nothing more than an adware program that aims to reach your system in order to flood you with commercial advertisements. Adware is not something you should take lightly, so, in order to secure your system from all the risks it might present, equip your PC with world-class antimalware software.