Do you know what StreamMe is?
StreamMe is a browser extension that represents the services of stream-me.com, and that can be found at chrome.google.com/webstore/detail/streamme/lakbopfgpohfkbdjhhkmmbhkijbapghd. According to the information on the Chrome web store, the extension should make it possible for you to watch your favorite content. Of course, whenever a promise like that is made, you need to raise some questions. First of all, how can a simple extension know exactly what you want to watch? Second, why do you need to install an extension at all? Essentially, if you go to stream-me.com, you can access the same content as you would access by using the extension, and that makes it pretty much useless. That is one of the reasons to delete StreamMe, but it is not the only one. In fact, it is much more important to remove suspicious software for security reasons.
If you have downloaded StreamMe already, you know that this extension changes how your Google Chrome web browser works. Although it looks unchanged, if you type "stream" or "movies" into the address bar and then tap the "tab" or "space" key, the Stream-Me search tool is activated. You can enter any entertainment-related keywords you like, and your search is routed to stream-me.com/search/. Based on what you type into the address bar, you are introduced to a list of videos that are meant to correspond to your query. These videos might be interesting, but you are likely to have better luck using YouTube or any other reputable video-sharing platform. All in all, although StreamMe does not seem to offer great services, it does work to some extent, and so it is hard to look at it as a completely useless piece. Nonetheless, we do classify it as a potentially unwanted program (PUP).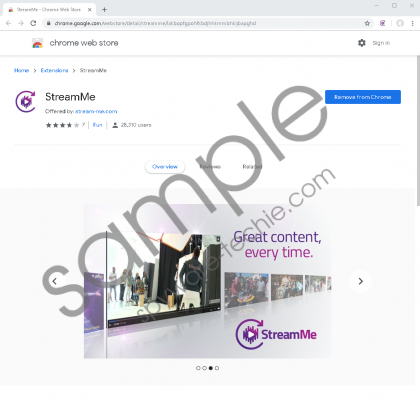 StreamMe screenshot
Scroll down for full removal instructions
Although StreamMe offers a service that some users might find useful, our research team suspects that this is not the main feature of the PUP. If you do not activate the Stream-Me search, the search via the address bar is still modified. StreamMe changes the default search to feed.stream-me.com/?q, and every time you enter a keyword, you are redirected to Yahoo Search. You might not notice this if Yahoo Search is your set default search provider because the searches are redirected seamlessly. Unfortunately, the results are modified, and that means that sponsored content and ads are injected into what looks like normal search results that you would find on search.yahoo.com. Is it safe to interact with such results? These results could be selected by parties we are unfamiliar with, and they could use the information that the PUP is capable of recording using web cookies. This might include your browsing history. All in all, interacting with such results could be extremely dangerous, and so we suggest avoiding it.
As you can see, it is possible to remove StreamMe manually. In fact, eliminating this potentially unwanted program is something that most users should be completely comfortable with. We add steps that show how to clear browsing data too because it is wise to erase any persistent cookies that could have been placed by the PUP or third-party partners. Manual removal is not the best option if the PUP was installed using a bundled downloader and along some with other extensions or applications. Employ a trusted anti-malware program now, and if any threats exist, they will be erased automatically. The program will delete StreamMe too, and your system's protection will be fully enabled. It's a win-win situation.
Delete StreamMe from Google Chrome
Open the browser.
Tap Alt+F to access the Chrome menu.
Click More tools and then Extensions.
Remove SteamMe.
Tap Ctrl+Shift+Delete to access the Clear browsing data menu.
Click Advanced, select the time range, choose the boxes.
Click Clear data.
In non-techie terms:
You might think that StreamMe is an extension that can serve you beneficially, but, instead, it is just a potentially unwanted program that uses a relatively useless service to hijack your browser and introduce you to sponsored search results that are delivered via Yahoo Search. Overall, things do not feel right with this PUP, and it is best to eliminate it. Removing StreamMe manually is one option that you can consider, and the guide below will help you along the way. Another option is to employ anti-malware software that could inspect the system and automatically remove any threats that might be found. Because it could also secure your system against PUPs in the future, we strongly recommend installing this software.