Do you know what Streamit-online.com is?
Judging from the fact that we use a domain address for our main keyword, some users might think that we are going to talk about a browser hijacker. However, this application that we are about to dissect is actually a potentially unwanted program. This means that the application may be installed on your computer accidentally, and it can come with a bunch of features that you could clearly deem undesirable. At the same time, it is not that hard to remove Streamit-online.com and all the other potentially unwanted programs from your system, so there is no need to panic.
The program that is associated with this domain is supposed to help you stream and listen to "thousands of free live radio stations with an easy to use default search extension." So if you like listening to the music and surfing through a variety of radio stations, perhaps having them all in one application would not be such a bad idea. Consequently, since the program itself is legitimate, you can easily get it through its official sources. The homepage is available via streamit-online.com, and there is also a page for this application on the Chrome Web Store. So it does not look like the application is a malicious infection or anything like that.
You might wonder why a lot of users complain about this application then if there is nothing dangerous about it. The problem arises when Streamit-online.com enters target systems accidentally. We cannot say that this program gets added to Chrome without user's permission. The application, which is a Chrome browser extension, requires your authentication to be added to your browser. But users often fail to notice a pop-up or any other notification that informs them about the oncoming changes. This usually happens because of the nature of freeware distribution.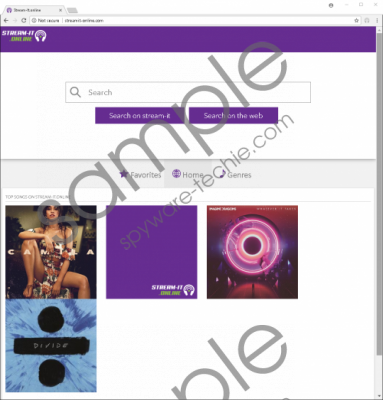 Streamit-online.com screenshot
Scroll down for full removal instructions
Although we have already established that this extension can be added to your browser directly from its official homepage, it is far more likely that Streamit-online.com travels bundled with freeware. That is actually the most common freeware distribution method, and that is also how users end up installing a lot of unwanted and unnecessary things on their PCs. For the most part, users fail to notice additional applications because they simply breeze through the installation, thinking that all of the setup steps are default, and there is nothing important about them. However, such point of view is highly detrimental, and it can lead to a variety of security issues.
So it is wrong to download programs from file sharing websites? No, there is nothing wrong about that. You just have to remember that the third-party sources that distribute freeware apps do not scan or review the installer files. So they do not know whether the installer file bundles several applications in one package. It is up to you to check this when you launch the installation process. For the most part, it should be possible to avoid adding unwanted apps because the installer gives you such option. As mentioned, the main reason that the likes of Streamit-online.com do get added to the Chrome browser is usually the absent-mindedness on the user's part.
Luckily, Streamit-online.com cannot cause any damage to your browser or your system. It can sure surprise you because once it is added to Chrome; the extension changes your default search engine. As a result, all of your search queries can be monitored by third parties, and the extension is bound to display modified search results via Yahoo! Search. Of course, Yahoo! Search has nothing to do with Streamit-online.com, but the search engine can be used by the people behind this extension to promote custom commercial content.
Rather than being dangerous, Streamit-online.com is merely annoying. Of course, it could be exploited by malevolent third parties to redirect you to dangerous websites, but that is the worst-case scenario. At the moment, your main task is to decide whether you want to keep this extension or not. If you did not want it to begin with, you can remove Streamit-online.com following the instructions provided below this description. You might also have more unwanted applications on-board, so do yourself a favor and run a full system scan with a legitimate antispyware tool.
How to Remove Streamit-online.com
Open Chrome browser.
Press Alt+F and click More tools.
Select Extensions.
Remove Stream-It.online Default Search.
Restart your browser.
In non-techie terms:
Streamit-online.com belongs to a genuine browser extension that gets added to Chrome with user's permission. If you do not remember installing this application, you must have added it accidentally with some other program. It could have entered your system together with a few other applications, so when you get rid of Streamit-online.com, do not forget to check your computer by scanning it with a reliable security tool. You need to make sure that you get rid of all the unwanted programs for good.