Do you know what StreamingTime is?
This application works as a browser extension and our research lab team classifies it as a browser hijacker. This means that this program may modify your browser's settings in a way that will not be beneficial for you. Consequently, these modifications may expose you to a variety of security threats. Therefore, it would be in your best interests to remove StreamingTime from your computer as soon as possible. If you scroll down to the bottom of this page, you will find the manual removal instructions ready for you.
Probably the good thing is that this application cannot affect many browsers. It is compatible only with the Chrome browser. At the same time, it is not a malicious infection, so users can download and add it to their Chrome browser willingly. You will probably say that you never intended to have this extension, as you don't need it, so how on earth is managed to slither into your computer?
Well, for starters, let's look at the way this extension gets distributed. It has an official website via streaming-time.com, and it can also be found on the Chrome Web Store. From this, we can tell that the application should be legal, as it does not try to hide itself. But computer security experts would suggest that direct download is not the main method of distribution employed by this program.
Normally, such extensions come bundled with freeware or they reach your browser through various pop-ups. For instance, if you open a website that supports third-party advertising, you are bound to find a lot of ads there. Even if those ads do not appear immediately, they might be hiding in pop-ups that appear the moment you click anywhere on the page. Sometimes, the pop-ups offer you to add StreamingTime and other similar extensions to your browser automatically.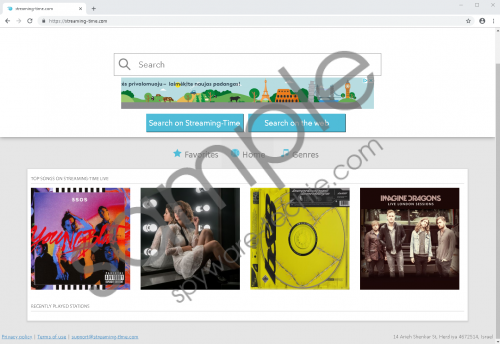 StreamingTime screenshot
Scroll down for full removal instructions
Please note that the extensions will not be added without your permission, so it is very likely that you could have clicked the "Add extension" button accidentally (especially if you are used to doing it on a regular basis). On the other hand, if you were the read the pop-up before adding the extension, you would find that StreamingTime requires the following permissions:
Read and change all your data on the websites you visit

Change your search settings to: feed.streaming-time.com

Manage your apps, extensions, and themes.
From this list we can see that this extension can modify your default search engine settings. In other words, all of your search queries will be redirected through another search engine. You will see that at the end of the line, you land on the Yahoo! Search page. Does that mean that mean that Yahoo! Search has anything to do with StreamingTime? Not really, it is very common for such extensions and browser hijackers to make use of popular search engines to make it seem that they are reliable as applications. However, this implies that this extension monitors your online activity and collects all of your search keywords.
Why does it do it? For money. Although StreamingTime is a freeware application and you do not have to pay anything to use it, it still has to survive somehow, right? So it survives on third-party advertising. It collects your web browsing data so it could get a general idea of your likes and preferences. When it processes all the collected data, it can generate custom commercial advertisements that you will see either when you browse certain websites or when you search for something (in such a case, the links will be embedded within your search results).
This is definitely an intrusive tactic, but it is not anything malicious. The only problem is that it could be exploited by malevolent third parties. Hence, it is a security threat that shouldn't be ignored. What's more, if you did not intend to have this extension, you have more reasons to remove StreamingTime right now.
Deleting this extension on your own can be a little bit bothersome because it requires thorough removal. We would like to recommend using the SpyHunter free scanner to find all the files and entries created by this application, and then terminate it automatically. At the same time, you will be able to get rid of other undesirable threats (as you are bound to have quite a few of them). Simply do what is the best for your system's security.
How to Remove StreamingTime
Press Win+R and the Run prompt will open.
Type %LocalAppData% into the Open box and click OK.
Open Google\Chrome\User Data\Default\Extensions.
Delete the befmofeikcemiffcjbnphelmcamaommo folder.
Press Win+R again and type regedit. Click OK.
Go to HKEY_CURRENT_USER\Software\Google\Chrome\PreferenceMACs\Default\exensions.settings.
Right-click and remove the befmofeikcemiffcjbnphelmcamaommo value on the right pane.
Scan your PC with SpyHunter.
In non-techie terms:
StreamingTime is an extension for the Chrome browser. It might look like an innocent tool for audio streaming, but it could be misused by cyber criminals, and so it is not recommended to keep it on your computer. If anything, it would be a good idea to remove StreamingTime immediately. As mentioned, you can remove this extension manually, but automatic removal with a licensed security tool is a far more efficient option.