Do you know what StreamingOnlineWatch is?
StreamingOnlineWatch displays quick-access links to Gmail, Yahoo, Facebook, YouTube, and Instagram pages. That is the only good thing about this extension, and, needless to say, that is not a motive to keep it around. Although the extension is meant to help you watch movies and TV shows for free, it does not work; at least, not at the time of research. Should you install useless programs and add-ons? Of course, you should not. If you have installed it already, you might be tempted to just ignore the PUP (potentially unwanted program), which is easy to do since it does not hijack the homepage or search provider. That is not what our research team recommends. Instead, you should delete StreamingOnlineWatch, and the removal guide offered in this article will help you understand the process clearly.
You could not have downloaded StreamingOnlineWatch from streamingonlinewatch.com recently because this page has been down for some time now. Our research team is keeping an eye on the official installer of the PUP, and if anything new is found, we will inform you. For now, only Google Chrome users can acquire the extension via the Chrome web store. Although this source offers many great and reliable extensions, it is known that some of the add-ons represented via it are, to say the least, questionable. If you did not download the PUP from the web store, you probably acquired it bundled with third-party programs carried in one package deal. If that is so, you must research all other installed programs too; not just StreamingOnlineWatch. If you do not have experience uncovering malicious threats or PUPs, install a malware scanner, a tool that can automatically scan the system and find the threats that require removal.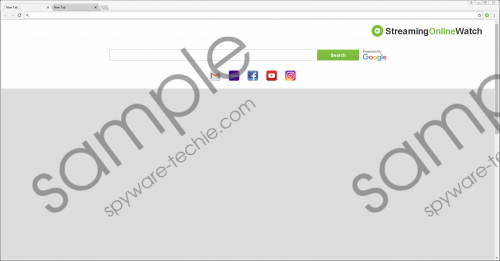 StreamingOnlineWatch screenshot
Scroll down for full removal instructions
Once installed, StreamingOnlineWatch is represented via the browser's New Tab page. The interface of the PUP has nothing to do with streaming videos, of course. Besides the quick-access links that we discussed already, the PUP also presents links called "End User License Agreement" and "Privacy Policy." These route to empty error pages, which means that you cannot actually review the statements, and that is something to think about. Do you know how StreamingOnlineWatch works? You really do not, and that makes the PUP extremely questionable and unpredictable. This is not the kind of software we suggest playing with. It is also not recommended that you use the search tool represented by the PUP. The "Powered by Google" tag next to the search field does not mean that you will be routed to Google Search. Instead, you will be routed to Findter.com, and these search results might show advertisements, search-unrelated links, and even unreliable links. This is another important reason to delete the PUP.
The removal guide you see below can help you remove StreamingOnlineWatch manually. These steps are pretty simple, and you should have no trouble following them. On the other hand, you might not be able to clear the entire operating system if other threats exist, and you must think about that carefully. Remember the malware scanner we discussed earlier? This is the right time to install it and check what is going on. If you are informed about the existence of other infections, we suggest taking care of it as soon as possible, and if you cannot do it manually, installing automated anti-malware software is the right move. If you want to discuss your options further, contact us via the comments section.
Delete StreamingOnlineWatch
Open the Google Chrome browser and then tap keys Alt+F.
Select More tools and then Extensions to find the unwanted extension.
Click the Remove button linked to the PUP.
Tap keys Ctrl+Shift+Delete and choose the time range.
Mark appropriate boxes and then click CLEAR DATA.
Tap keys Alt+F again, select Settings, and then click Advanced at the bottom.
Go to Reset and clean up and click Restore settings to their original defaults.
Click RESET SETTINGS.
In non-techie terms:
It shouldn't be hard for you to make the decision to remove StreamingOnlineWatch because, at the end of the day, this extension is useless. The search tool it presents is unreliable. Also, it is very unpredictable, and you do not want to take any security risks for a tool that does not offer anything good. Needless to say, you need to delete the PUP, and you need to do it now. Our recommendation is to utilize a reliable anti-malware program that could automatically find and erase StreamingOnlineWatch. This is definitely the best option if other threats exist besides the potentially unwanted program. If you are thinking about manual removal, check the guides on this site to find out how to eliminate other existing threats or PUPs.