Do you know what StreamFrenzy is?
Advertisements offering StreamFrenzy describe it as a tool that can allow the user "Listen to live, worldwide radio stations online and enjoy Web Search from one FREE Chrome New Tab!" Even though the extension is able to provide what it promises we still do not think it would be wise to keep it on the browser. First of all, our computer security specialists have classified it as a potentially unwanted program. It means the application could have undesirable qualities, for example, in this case, we learned StreamFrenzy might show suspicious third-party advertisements. Since depending where the ads come from some of them might be potentially dangerous, we would advise users to avoid them or better yet remove this potentially unwanted program and by doing so prevent it from displaying such content. As you continue reading our article, we will explain more about this questionable extension. For users who choose to eliminate it, we recommend having a look at the removal guide we added below the report as it could help erase it faster.
For starters, it appears to be users can install StreamFrenzy after clicking irritating pop-up ads advertising it. Right after the potentially unwanted program gets installed it could change various browser preferences. To be more accurate its End User License Agreement (EULA) states the extension's installation might alter the browser's "(i) new tab; (ii) default search engine; and (iii) home page." However, the application can do so only to Google Chrome as it does not work on Internet Explorer, Mozilla Firefox, or any other browser. Soon after the described changes take place the browser may start loading a particular search engine called mysearch.com. Our researchers say it could show modified search results and through them, the user might be introduced to third-party advertisements. This possibility comes from one of the extension's Privacy Policy statements, which says it could gather various user data "To improve our Service and recommend content based on your preferences."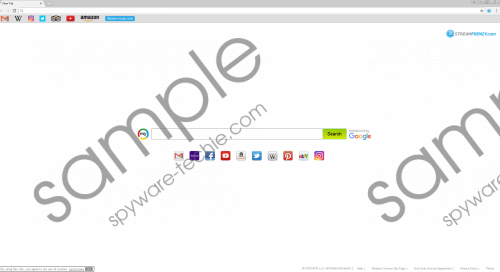 StreamFrenzy screenshot
Scroll down for full removal instructions
Another thing users should know about ads that might be shown by StreamFrenzy is the potentially unwanted program's creators claim they "have no obligation to examine, review or monitor Third Party Content" and "have no control over and assume no responsibility for Third Party Content." This could mean the ads may come from any source and there are no guarantees of their reliability. In other words, there is a chance some part of the ads might come even from potentially dangerous sources, for example, sites distributing adware, browser hijackers, or even malicious threats. Under such circumstances, we would advise erasing StreamFrenzy from your browser. Instead of its provided search engine, you could place a more reliable one like google.com or search.yahoo.com. As for the extensions toolbar with links to particular web pages you could bookmark these links and still access favorite sites just the same.
Users who do not want to keep this potentially unwanted program anymore can get rid of it manually by following our removal guide added at the end of the article. It will show how to delete data associated with StreamFrenzy step by step. Needless to say, if this process appears to be a bit too complicated, you could employ a reputable antimalware tool and do a system scan instead. Afterward, the tool should show the potentially unwanted program and other threats that could be hiding on the system. Also, you should be able to eliminate all of the listed detection with a single mouse click.
Erase StreamFrenzy
Click Windows Key+E.
Search for the following paths:
%USERPROFILE%\Local Settings\Application Data\Google\Chrome\User Data\Default\Extensions
%USERPROFILE%\Local Settings\Application Data\Google\Chrome\User Data\%PROFILE ID%\Extensions
%LOCALAPPDATA%\Google\Chrome\User Data\Default\Extensions
%LOCALAPPDATA%\Google\Chrome\User Data\%PROFILE ID%\Extensions
Find directories titled dkeihdiajpenlodoaffemeajmmcilgji, right-click these folders separately and choose Delete.
Search for this particular path: %USERPROFILE%\Local Settings\Application Data\Google\Chrome\User Data\Default\Local Storage
Look for the following files:
chrome-extension_dkeihdiajpenlodoaffemeajmmcilgji_0.localstorage
chrome-extension_dkeihdiajpenlodoaffemeajmmcilgji_0.localstorage-journal
Right-click them one by one too and tap Delete to erase them.
Find this location: %USERPROFILE%\Local Settings\Application Data\Google\Chrome\User Data\Default
Search for listed files:
Preferences
Secure Preferences
Right-click these files separately and click Delete.
Leave File Explorer.
Empty your Recycle bin.
In non-techie terms:
StreamFrenzy is not a malicious application, but knowing it falls under the classification of potentially unwanted programs, it cannot be considered as reliable either. Our computer security specialists report it could show users questionable advertisements coming from unknown third parties. Since the extension's creators claim they do not review such content or take any responsibility for it, there is a chance some of it could be potentially dangerous. For this reason, we would advise our readers no to risk encountering it. In other words, we think it would be safer to get rid of this extension before anything goes wrong. If you think deleting it would be for the best as well, we encourage you to follow the removal guide available a bit above this text or employ a reputable antimalware tool of your choice.