Do you know what Stream+ is?
Stream+ is a very odd extension. Even the description of it does not make it incredibly appealing. According to this description, once you install the extension, it can insert sponsored search results in Google Search. Is that your preferred search provider? If it is, it is unlikely that you want it to show more ads than it already does. In fact, you are more likely to seek ad-blocking extensions instead of ad-injecting ones. It is really unclear how the creator of this PUP (potentially unwanted program) attracts users because the extension does not even sound great. Nonetheless, you might have installed it. Whether that was done accidentally or without fully understanding how the extension works, you now might wish to delete it. Continue reading, and you will find out how to remove Stream+ quickly.
StreamSoft is introduced as the creator of Stream+ via the installer page on the Chrome web store (at chrome.google.com/webstore/detail/stream%20/kpncmkgglmkbbcabgocieiijhhljille). In the "Additional Information" section, you can find the developer's contact email address, which is newsearchlab@gmail.com. This suggests a different company name. Also, you should be careful with companies that use public email domains. This section also presents a link to the Privacy Policy, but if you click it, you are routed to a page of a web hosting service provider, which means that the link routes to a website that does not exist anymore. This is very suspicious. In fact, if you ever face a program or a service that is not supported by a privacy policy, terms of use agreement, and other legal information, you should not trust it. Overall, Stream+ is not introduced in a transparent manner, and that is a reason good enough to remove it.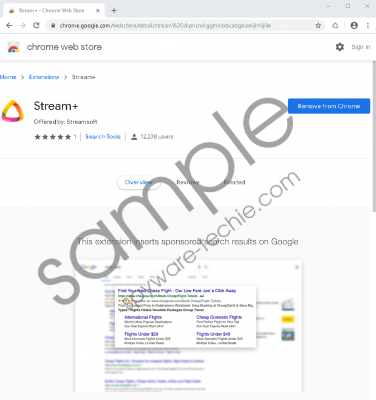 Stream+ screenshot
Scroll down for full removal instructions
Once the suspicious Stream+ is installed, it does not change your Google Chrome browser. However, an icon of its logo is added at the top of the browser, and so you cannot forget about its existence. If you do not delete this potentially unwanted program, every time you enter a search keyword into the search engine of www.google.com, you are introduced to sponsored links. Since we do not know who Stream+ works with or how it injects sponsored links, we cannot say that it can be trusted. What if the links route to malicious websites or promote fake deals? That could be the case. Also, what if the PUP tracks personal information about you and then shares it with unknown parties? For all we know, this could be the case also. All in all, the extension is highly suspicious, and there is a good chance that your virtual security could be jeopardized if you continued using it, and that is why we advise removing it.
If you have experience removing unwanted Google Chrome extensions, we are sure that you will have no trouble deleting Stream+ as well. Just do not forget to clear browsing data as well. You might think that it will make no difference if you clear your browsing history or erase some cookies, but your virtual security could depend on it. At the end of the day, Stream+ is extremely unpredictable, and you want every piece of this PUP erased and gone. Since it is also possible that the PUP could be distributed using bundled downloaders, we recommend scanning your system to check for additional threats. If they exist, consider employing a legitimate anti-malware program to have all threats deleted automatically.
Remove Stream+ from Google Chrome
Open the browser and tap Alt+F keys.
Click More tools to expand the menu.
Select Extensions to access the list of installed extensions.
Click the Remove button next to Stream+.
Tap Ctrl+Shift+Delete to access the Clear browsing data menu.
Select a time range, check boxes, and click Clear data.
In non-techie terms:
Stream+ does not look malicious, but it does not look useful either. In fact, we certainly do not know how Google Chrome users could be convinced to install this strange extension. All it claims to do is inject sponsored links into Google Search, and most people want to remove ads, not add more of them. Unfortunately, no official website or legal documentation supports this PUP, and so we cannot consider it to be transparent. Since we do not know how this extension actually works, we recommend deleting it. If you want to delete Stream+ manually, use the guide above, and if you are more confident with having the PUP erased automatically, install an anti-malware program you can trust.