Do you know what StrataBeauty is?
If you are thinking about downloading and installing a program entitled StrataBeauty, you should think twice as our research team has discovered that this application is just one more adware disguised as a useful tool. On its official website, this piece of unwanted software is promoted as a great program that you should obtain if you wish to receive various beauty tips and discount deals regarding beauty as well. Even though, it might sound like a tool worthy of having on your operating system, you must know that in reality, this application does nothing like that. Usually, it will only cause major disruptions while you are one the web instead of providing any useful content. Such activity will alter your online experience for the worse, to put it mildly. In this report, we provide further information about the dubious functionality of StrataBeauty and a few preventative steps that should help you improve your overall virtual security. Besides such important information, we also enclose a detailed removal guide below that should be used immediately if this adware is found up and running on your computer.
It is important to know that the primary indication that an adware application is active on your computer is a presentation of intrusive third-party web content within your web browser. StrataBeauty can perform in such a way because it contacts numerous adware servers, at the very same time that it gains full access to your computer. These contentions are initiated by the help of as system service which starts along with the adware program in question. As soon as this intrusive application is fully active, you will start noticing an unusual amount of unwanted third-party web content, which in most cases will be provided to you in a form of ads, coupons, and pop-ups. The most annoying thing about this adware application is the fact that it operates in a random way, to say the least. During our research, we have found out that at times it could fill your web browser with so many of those invasive ads, pop-ups, and coupons that you might not even be able to surf the web the way you are used to. It goes without saying that such activity will ruin your overall online experience on many levels. Keep in mind that you must delete StrataBeauty as a whole to regain the standard functionality of your web browser' if you choose to simply kill the background system service of this adware, you will continue to be disrupted by the annoying web content.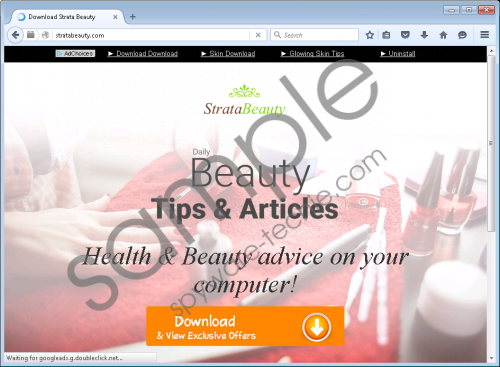 StrataBeauty screenshot
Scroll down for full removal instructions
If you consider yourself a security-conscious user, you must take a few preventative steps to safeguard your computer from being infected with StrataBeauty or any other dubious program. First and foremost every computer user should have a professional antimalware tool active on their PC at all times. Such a tool is essential if you wish to have your system safe and secure because it can detect and terminate any questionable program in an instance. Additionally, we highly advise you download your software from authorized websites only. This is critical since questionable third-party sites are infamous for being the primary source of software bundles, which are usually used by malware distributors to spread their dubious programs. Also, you should learn about the program of your choice as much as you can before acquiring it since like StrataBeauty it could be advertised in a deceiving way. Often creators of dubious programs use misleading marketing techniques to lure naïve Internet users into obtaining a program without realizing how it really functions. Last, but not least, you should always remember to pay your utmost attention while installing any application on your computer because you might come across a chance to cancel the installation of some unwanted application.
To stop the overall annoying functionality of StrataBeauty, you must execute its complete removal. Malware experts at Spyware-Techie.com have crafted a detail removal guide that you should follow. Once you are done with it, we highly advise you to run an in-depth investigation of your operating system to be sure that every single bit of this adware program has been removed from your computer. This is an essential task since just a few leftovers could be enough for StrataBeauty to silently restore itself or even to continue its invasive functionality.
How to remove StrataBeauty from your computer
Windows 10
Right-click the Windows button.
Select Control Panel.
Click Uninstall a program.
Locate and select the unwanted program.
Click the Uninstall button.
Windows 8 and 8.1
Right-click your Task Bar.
Select Control Panel.
Click Uninstall a program.
Double-click the StrataBeauty.
Confirm that you want to remove it.
Windows 7
Click the Windows button and select Control Panel.
Click Uninstall a program.
Select the StrataBeauty.
Click the Uninstall option.
Windows XP
Click Start and select Control Panel.
Select the Add or remove programs option.
Remove this intrusive program.
In non-techie terms:
If you are a non-advanced computer user who does not feel comfortable performing the removal procedure and analysis manually, you should follow the instructions that we present below. These alternative removal instructions will help you delete StrataBeauty in an automatic way.