Do you know what StormWarnings is?
If you are worried about missing out on important weather alerts, StormWarnings might seem like a beneficial asset to your operating system. Nonetheless, our research team identifies this "asset" as a potentially unwanted program (PUP) that deserves removal. Even though this program cannot install malicious programs without your permission, steal banking information, or hijack your virtual accounts, it can be dangerous to trust it. According to the research we have conducted, StormWarnings can show ads, and this is the main reason to delete it from your Windows operating system. If you lack experience that could help you remove StormWarnings from your operating system, we suggest reading this report.
Are you familiar with SevereWeatherAlerts or StormWatch? Both of these programs work in the same way that StormWarnings does. All of these potentially unwanted programs were developed using the same framework, which is why it is not surprising that they are identical. You can remove all of these programs using the same method as well. The question is why should you remove these programs? We have found that these PUPs can showcase advertisements. Unfortunately, it is difficult to say if these ads are reliable and harmless. In fact, most users will realize this only after they interact with these ads, and it might be too late. For example, if StormWarnings injects an ad showcasing a malware installer, one click on this ad could be enough to execute the installer. Needless to say, this can be very dangerous, which is why you should have no further hesitations about the removal of StormWarnings.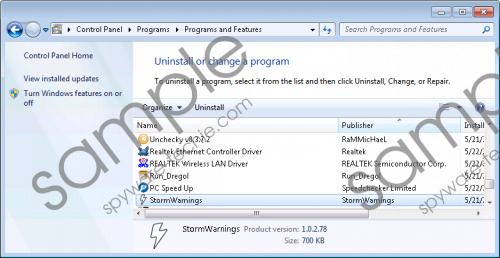 StormWarnings screenshot
Scroll down for full removal instructions
Have you found other infections installed along with StormWarnings? This potentially unwanted program is officially promoted at mystormwarnings.com, but it appears that it could also be installed along with other programs. It is naive to think that all installers carrying StormWarnings will be harmless. If you trust all installers, Trojans, ransomware infections, fictitious malware removal programs, bogus system optimizers, and other kinds of malicious infections could take over your operating system without your noticing. Of course, we do not put the blame for infecting your PC on the creator of the PUP. Despite this, we still recommend removing StormWarnings from your operating system.
If you do not want to encounter ads every time you browse the web, you must remove software infecting them. Unfortunately, it is likely that you will need to delete StormWarnings from your PC to stop ads. If you refer to our manual removal guide below, you will remove this potentially unwanted program in no time. Unfortunately, we cannot guarantee that the infections or unreliable programs installed along with this PUP will be just as easy to handle. If you cannot remove StormWarnings-related infections or PUPs manually, please install a trustworthy, automated malware remover.
Remove StormWarnings
Remove from Windows XP:
Click Start on the Taskbar and select Control Panel.
Double-click Add or Remove Programs.
Identify the PUP, select it, and click Remove.
Remove from Windows Vista and Windows 7:
Click the Windows icon on the Taskbar to open the Start menu.
Open Control Panel and click Uninstall a program.
Locate the program you wish to delete, right-click it, and select Uninstall.
Remove from Windows 8 and Windows 8.1:
Launch RUN (tap keys Win+R), type Control Panel, and click OK.
Click Uninstall a program (under Programs/Programs and Features).
Right-click the program you wish to delete select Uninstall.
In non-techie terms:
StormWarnings is a potentially unwanted program we recommend removing from your operating system. The instructions presented above show how to uninstall StormWarnings from your Windows operating system. If you do not remove this program from your PC, it is likely that you will be exposed to unreliable advertising, and this could lead to more serious security issues. We advise installing automatic malware removal software to take care of the remaining threats and your protection.