Do you know what Storimbo is?
Storimbo is an adware application that comes forth promising you to enhance your online shopping experience. It might sound like a rather good deal, but you need to remember that nothing comes from free these days. Storimbo is actually an unnecessary program that can inadvertently expose you to corrupted content, and in the worst case scenario you could even end up getting infected with malware. Therefore, the sooner you remove Storimbo from your computer, the better. Do not hesitate to leave us a comment below this description if you need any help with ensuring your system's safety.
Luckily, it is not complicated to remove Storimbo on your own. This adware application comes with entry in the list of installed programs. This means that you can uninstall Storimbo manually via Control Panel. Nevertheless, removing this program might not solve all of your programs.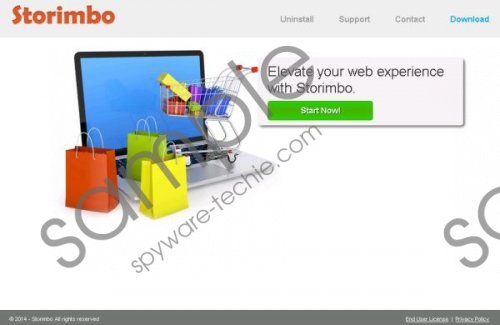 Storimbo screenshot
Scroll down for full removal instructions
Do you remember having installed Storimbo on your computer? Chances are that you have no idea where this application came from. That is so because Storimbo does not have a direct distribution source. Our research team has managed to find that the application has an official homepage at storimbo.net. However, the website does not do anything good. It is just an empty shell that is there to make an impression Storimbo is a legitimate tool.
In reality, Storimbo belongs to the SuperWeb family of adware applications. This makes the program identical to Boxed Books, Key Lime Lizard, Rad Rater, and many other programs. The SuperWeb family adware has been on the rise lately as they are included in multiple freeware bundles. This is exactly how Storimbo and other programs from the group manage to enter user computers worldwide. If you install a new freeware app, you have downloaded from a file sharing website, you have to be attentive during the setup process. Most of the time, users are informed about the additional freeware that is about to be installed on your computer, but if you don't pay attention, Storimbo will enter your system just like that.
Granted, Storimbo is more annoying that dangerous because all this application does is display commercial ads. Nevertheless, these ads are often embedded with outgoing links to third-party websites. Storimbo does not even "know" whether these websites are safe or not because the application does not review third-party content. Its privacy policy does not cover it.
Therefore, it is your responsibility to protect your computer from potential threats by removing Storimbo from the system. It is necessary to delete other unwanted applications as well, so do not hesitate to acquire a licensed antispyware tool if need be.
How to uninstall Storimbo
Windows 8
Slide mouse cursor to the bottom right of your screen.
Click Settings on Charm bar and go to Control Panel.
Go to Uninstall a program and remove Storimbo.
Windows Vista & Windows 7
Click Start menu and click Control Panel.
Open Uninstall a program and remove Storimbo.
Windows XP
Open Start menu and navigate to Control panel.
Access Add or remove programs and uninstall Storimbo.
In non-techie terms:
Storimbo is an annoying browser extension that spams you with pop-up ads. It slows down your browser and allows cyber criminals to expose you to their malicious content. You have to remove Storimbo from your PC right now, if you want to avoid serious computer security issues.