Do you know what Sqpc Ransomware is?
Sqpc Ransomware is a malicious computer infection from the STOP Ransomware family. It is very similar to Mpaj Ransomware, Toec Ransomware, Jope Ransomware, and many other infections from the same family. Perhaps, the easiest way to tell that all those programs are related is their ransom note. All of them display the same message, and it says that you have to pay the ransom if you want to get your files back. The truth is that you shouldn't pay for anything. Simply remove Sqpc Ransomware from your computer following the manual removal instructions below and then protect your system against similar threats.
The problem with ransomware infections is that it is quite often quite challenging to mitigate the damage caused by them. When other infections are concerned, it's possible to simply remove them and then go back to normal. With ransomware programs, you might have a computer full of unreadable files, even if you have removed Sqpc Ransomware from your system. Thus, ransomware infection prevention is just as important (if not more) than the ransomware removal. And the question is, how can we protect our computers from such intruders?
First, we have to realize that Sqpc Ransomware usually enters target systems with the user's permission. That's because ransomware uses spam email attachments, drive-by downloads, and corrupt RDP connections to reach you. For instance, the spam email that carries a ransomware installer file might look like some lottery announcements, online shipping invoices, and even messages from your colleagues at work. However, if the urgent (unexpected) email you receive requests you to download and open some file immediately, the chances are that there is something suspicious about it. Hence, instead of downloading the file, you should delete the email message completely. Also, if you want to make sure whether the files you received are safe or not, be sure to scan them with a security tool of your choice.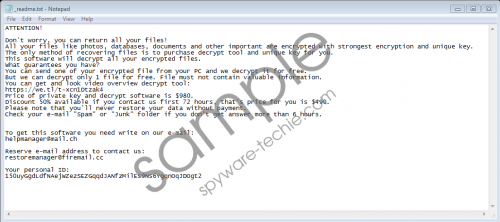 Sqpc Ransomware screenshot
Scroll down for full removal instructions
On the other hand, if you have the "pleasure" of dealing with this infection first-hand, you will soon see that the moment this program enters your computer, everything chances. Just like its predecessors, Sqpc Ransomware comes with an additional extension that it adds to all the affected files. The extension is ".sqpc," and it works like a stamp that says your files were affected by the malicious infection. Of course, the reality is that you don't need this stamp to know your files were scrambled because all the files icons will have changed after the encryption.
Aside from that, Sqpc Ransomware will also drop a ransom note that says you have to pay in order to restore your files. The ransom note text is the same across all the STOP Ransomware infections, and here's an extract from the said note:
Price of private key and decrypt software is $980.
Discount 50% available if you contact us first 72 hours, that's price for you is $490.
Please note that you'll never restore your data without payment.
Check your e-mail "Spam" or "Junk" folder if you don't get answer more than 6 hours.
So, this infection gives you a time window to contact them for the decryption key. However, you already know that paying for the decryption is not an option. What's more, there is a public decryption tool available for the STOP Ransomware infection. If Sqpc Ransomware employed an offline encryption key, you will be able to restore your files with the said public decryption tool. If not, you should look for other potential file recovery options, as there should be quite a few.
As for the infection itself, you can remove Sqpc Ransomware by following the manual removal instructions below. If you do not feel confident enough to do it, please invest in a powerful security application that will help you terminate the infection once and for all. You might also find more dangerous files or applications installed, so if you get yourself a security program, you will be able to terminate everything at the same time. Also, a security tool of your choice will help you protect your computer from other threats. Yet, don't forget that your web browsing habits and your cybersecurity practices also mean a lot when you want to protect your PC from ransomware.
How to Delete Sqpc Ransomware
Delete the most recent files from Desktop.
Delete the latest files from the Downloads folder.
Press Win+R and enter %TEMP%. Press OK.
Remove the latest files from the directory.
Press Win+R and enter %LocalAppData%. Press OK.
Remove a folder with a long random name.
Scan your computer with SpyHunter.
In non-techie terms:
Sqpc Ransomware is a computer infection that locks up your personal files. In order to restore your files, this program wants you to pay a lot of money. It says that you cannot restore your files otherwise. That is not true, and you should look for other file recovery methods. You have to remove Sqpc Ransomware from your system as soon as possible, and you must ensure that similar programs do not enter your system again.