Do you know what Spyware Defender is?
Spyware Defender is a malicious computer infection categorized as rogue antispyware. Rogue antispyware programs masquerade as reliable computer security applications because they intend to rob you off. Spyware Defender needs to convince you that your computer is seriously infected with dangerous malware threats, and you have to download and install a powerful computer security application to protect your PC from harm. Needless to say, you must remove Spyware Defender at once because the rogue can slow down your system performance and trick you into revealing your sensitive financial information without even realizing it.
Rogue antispyware applications employ many distribution methods including spam emails, freeware download, various exploits, and even Trojan infections. It also implies that if you have Spyware Defender on your computer, there is a good chance that there are more potentially unwanted and perhaps even dangerous programs installed on your system. In order to check the actual state of your system's security, you should run a full computer scan with the SpyHunter free scanner. Chances are that the full system scan will detect more than just Spyware Defender running on the PC.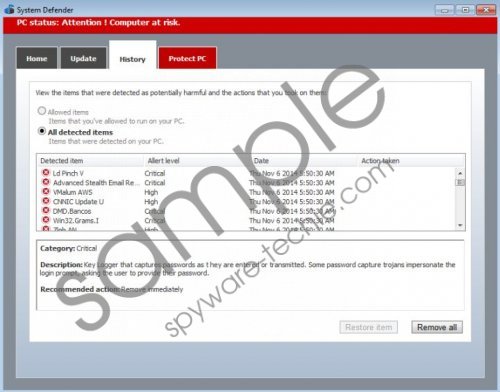 Spyware Defender screenshot
Scroll down for full removal instructions
If Spyware Defender pops up into your screen and starts scanning your system, do not panic. This scan is nothing but a hoax, and none of the scan results are real. Spyware Defender simply tries to make an impression that you are severely infected with dangerous viruses because it wants to convince you into revealing your financial information to third parties. Spyware Defender will offer you to buy and install "antivirus software and clean up your computer." The infection will also connect to spyware-defender.com (via 212.7.218.11) behind your back to communicate with its Control and Command center.
It is important to understand that Spyware Defender is not an extremely dangerous infection, and it cannot "blue-screen" your computer immediately. Users quite often choose to ignore rogue infections no matter how annoying and intrusive they are. However, you should never do that. Even if Spyware Defender keeps most of the vital system functions, it does not mean that in the long run it wouldn't result into something nasty. This rogue program targets your money, but it can also cause serious problems to your system if it really wants to.
To remove Spyware Defender from your computer, you should acquire a legitimate computer security program. Manual removal is not recommended because it requires dealing with Windows registry and other system files. If you delete an important system file, you might as well successfully "blue-screen" your computer. Rely on computer security experts and terminate Spyware Defender automatically. For any further questions, do not hesitate to leave us a comment.
In non-techie terms:
Spyware Defender is an unwanted computer program that enters your system behind your back. It tries to steal your money by convincing you to buy unnecessary applications. You have to delete Spyware Defender with a powerful antimalware tool. For an alternative software removal method, you can always refer to the secondary set of malware removal instructions below this description.
Manual Spyware Defender Removal
Windows 8
Press Windows key for the Metro Start menu to appear.
Click Internet Explorer tile and load your browser.
Enter http://www.spyware-techie.com/download-sph into the address bar and press Enter.
Download SpyHunter and scan your PC.