Do you know what Sport Score is?
If you expect a direct access to the scores of our favorite sports matches using Sport Score, you will be disappointed to find this program useless. According to the official information – and it is very limited – this program is meant to showcase scores with a simple shortcut entered into the Chrome search bar, but it does not actually work. In fact, if you end up downloading this extension from the Chrome web store, all you need to do is check the Reviews section to find that users are reporting the same thing. Despite this, there are quite a few users, and it is possible that this potentially unwanted program will spread even more with the help of third-party installers. Maybe you have downloaded the PUP (short for "potentially unwanted program") using an unfamiliar installer? If you have, it is possible that other PUPs or even malicious infections have slithered into your PC along with it. In any case, you should delete Sport Score.
The official website representing Sport Score is getsportscore.com but the download link routes to the Chrome web store (chrome.google.com/webstore/detail/sports-score/flgldhokbahffkebmfldneocfccfceka). Both of these sources provide a link to the Privacy Policy statement, and it is very important that you familiarize yourself with it. If you do not, you will not know that the seemingly beneficial program works with unfamiliar advertisers, who can use the PUP to introduce you to ads. It is unlikely that you will see pop-ups or interstitial advertisements if you download this program, but you might see banner ads, as well as sponsored links. The suspicious search tool, feed.getsportscore.com, is responsible for introducing you to these links, and, at first, you might not even realize it because they are mixed in with regular links. Were you surprised to find this search tool set as your New Tab or default search provider? If you were, it is unlikely that you have downloaded this program from its official source because the installer on this source clearly indicates the installation of feed.getsportscore.com. On the other hand, you might be exposed to a completely different search engine, and this is what might confuse you.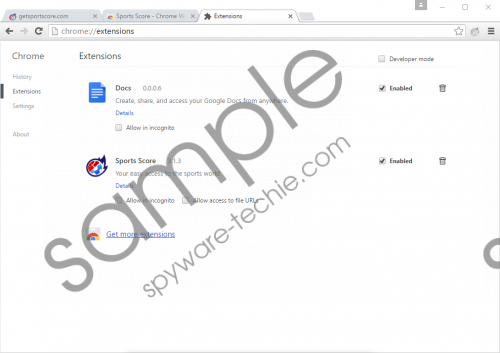 Sport Score screenshot
Scroll down for full removal instructions
According to our research, the suspicious feed.getsportscore.com can redirect to search.snapdo.com or search.safefinder.com, both of which are considered unreliable. These search tools showcase original search results, but they are introduced to you along with sponsored links, and trusting them is extremely risky. Although ads might be picked according to your browsing history, which might make them more attractive, interacting with them is still dangerous. Keep in mind that there are many malicious parties who use misleading advertising as a means of malware distribution or the representation of scams, and you do not want to fall victim to cyber crooks. If you do not remove Sport Score from your operating system right away, this program will spy on you to record your browsing behavior. Unfortunately, this information could be used to introduce you to unreliable links and get you trapped in scams.
If you are ready to remove Sport Score – and we are sure you are, considering that this app is useless – you can follow the guide below. Another method would be erasing the extension directly from Google Chrome, but this method is more assuring, and you can learn which components you need to look for when deleting unwanted software. If you are trying to delete a few other unwanted programs manually, make sure you research them first because you might have to approach their removal in a different way. We suggest you use our article database to find the information you need, and if you cannot find it, start a discussion in the comments section below. It is also important that you consider installing trusted anti-malware software to keep malicious and potentially unwanted program away in the future.
Delete Sport Score from Windows
Simultaneously tap Win+E keys to launch Explorer.
Enter %LOCALAPPDATA%\Google\Chrome\User Data\ into the Explorer bar at the top (Windows XP users need to enter %USERPROFILE%\Local Settings\Application Data\Google\Chrome\User Data\).
Right-click and Delete these files: Preferences, Secure preferences.
Move to the Default folder (if you have multiple Chrome Profiles, open the folder named after the infected Profile).
Open the Extensions folder.
Right-click and Delete the flgldhokbahffkebmfldneocfccfceka folder.
Restart your PC and immediately install a trusted malware scanner to inspect your PC.
In non-techie terms:
Sport Score is not reliable or beneficial, and there is not much else to say. If you do not remove this app from your PC right away, unfamiliar parties will track your activity and suspicious ads will greet you every time you surf the web. If you understand the risks associated with this potentially unwanted program, you will delete it right away, and we advise following the guide above to learn how to do it manually. If other threats are present and if you are inexperienced, it is best to use automated malware removal software. The best thing to do is employ a legitimate anti-malware tool that will simultaneously clear your system from malware and keep it guarded hereafter.