Do you know what Spider Sally ads are?
Spider Sally ads are advertisements of different types displayed by third parties to Google Chrome users. Spider Sally ads should be disregarded since their content might be aimed at deceiving you into getting involved in insecure activities. In order to get rid of the unwanted advertisements, it is necessary to remove the Spider Sally extension, which works only on the Chrome browser. The extension is a free product, and its developers profit from third parties using their application to deliver various offers and recommendation to the end users.
The Spider Sally extension is promoted in several ways including its official website, the Chrome Web Store, and software bundles. The application can be installed from the official website, where the user is invited to read the terms of use and privacy policy before installing. In the Chrome store, the application is presented in a straightforward way. It is clearly stated that it changes the settings of the browser, which should be taken into consideration before installing this extension. Lastly, Spider Sally can be distributed as an optional program alongside other programs, so it is crucial to play close attention to the options or warnings displayed by the software installer.
The application is supposed to help you search for free games; however, if you want to use this service, your browser settings are slightly altered for the advantage of the people behind Spider Sally. The extension changes the home page and new tabs to home.spidersally.com which retrieves Google search results. These changes are common features of free browser extensions, especially those that are aimed at promoting relatively unknown and unreliable websites. In the present case, the new search engine does not provide anything different from Google, but that does not mean that you should let the changes remain as they are at the present moment. We strongly recommend that you remove the extension from the browser, especially if you are constantly bombarded with questionable Spider Sally ads.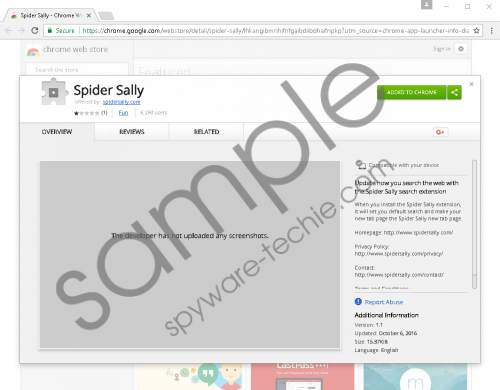 Spider Sally Ads Removal Guid screenshot
Scroll down for full removal instructions
Spider Sally ads are displayed by third parties which are regulated by separate policies that have nothing in common with Spider Sally. The content of such ads depends on their creators. Usually, among all the advertisements displayed by ad-supported programs you will encounter quite a few malicious advertisements aimed at obtaining your personal information or access to your device. It is important to disregard pop-up ads claiming that your system needs protection because some threats are detected or that you have been selected as the winner of some prize which you will get in return to filling in a questionnaire or a survey. There are thousands of ads that seek to trick you, so hurry up to get rid of Spider Sally ads by removing the extension responsible for all the inconvenience.
If you chose to use the search of the extension provided, the application records your behavior in order to determine your preferences, which when analyzed could be used to enhance the quality of the product and the whole service. Information collected includes search terms, links, time spent on the websites selected, IP address, browser type and some other technical details. If you do not want to be related to Spider Sally in any way, take action to remove it from your browser. Bear in mind that basically every service provider collects certain non-personally identifiable information, but not all of them are capable of managing that information without causing unsolicited consequences to their clients.
If you do not know how Spider Sally got on your PC, the odds are that some other questionable programs are running on your PC. To find whether the system is operating properly, you could use a reputable security program that is also capable of removing Spider Sally. In case you want to try terminating Spider Sally ads manually, use the following removal guide.
How to get rid of Spider Sally ads
Open the browser.
Click the three dots icon in the top right of the browser.
Select More tools and click Extensions.
Remove Spider Sally.
In non-techie terms:
Spider Sally ads are third-party advertisements, some of which might be aimed at making you download software or provide some personal details. In order to clear Spider Sally ads from the browsers, remove the program displaying those pop-ups and make sure that the system is protected against similar programs.