Do you know what SpeedyMediaConverter is?
SpeedyMediaConverter looks like a barebones video and audio converter which seems to work fine. However, our researchers have deemed it a potentially unwanted program that should be removed, because the quality of its conversions is rather questionable. On top of that, it is an ad-supported program, which means that is bound to show you unasked-for promotions while you browse the web. Furthermore, it has the ability to gather non-personally identifiable information about you. Many users are tempted to get this free ad-supported program, because most video converters are paid. As the old saying goes "what you pay for is what you get"so is the case with this program. So, do not expect to get a quality service from this program.
The fact that this program has several clones makes it very fishy. To be more specific, SpeedyMediaConverter is almost identical to EasyMediaConverter and SimpleMediaConverter that we have previously written about. All three programs were developed by the same secretive developer that does not digitally sign its software. This developer has set up a promotional website for its latest creation at Speedymediaconverter.com. Currently, this website is this converter's only means of distributions, but we would not be surprised to see it bundled in the near future. Its website might look decently, but, to the trained eye, it is just another hastefully set up distribution outlet for a potentially unwanted program.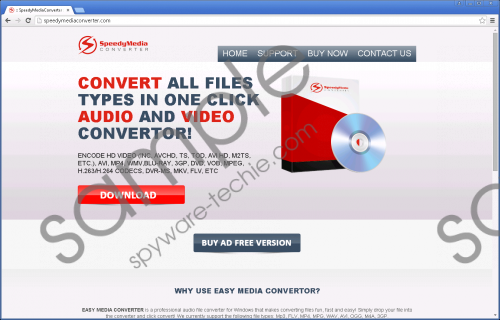 SpeedyMediaConverter screenshot
Scroll down for full removal instructions
Our researchers took the time to give this program a proper test drive. The results were not surprising. Most legitimate media converters take some time to convert a file, while SpeedyMediaConverter can do this in a matter of a few minutes. Obviously, this is not a good trait. Even our security analysts were able to tell that the quality of this program's conversions is quite poor. However, if you do not seek quality, but what to convert files as quickly as possible, it is not that bad. This program supports a lot of video formats, such as MP4, MPEG, AVI and audio formats, such as WAV, MP3, OGG, and so on. The files can be converted using various quality presets. However, no matter what preset you use the quality is pretty much the same.
This programs Privacy Policy fount on its website vaguely mentions commercial adverting and information collection. One thing is for sure, however, that this program can definitely display commercial advertisements and share collected information about SpeedyMediaConverter's users with its service providers. The information this software is set to automatically collect includes "Internet Protocol ("IP") address, HTTP header information, and the actions you take on the Software's Web sites." If you chose to buy this software, then you will need to provide personal information, such as your name, phone number, home address, email address, and credit card number. If you do not want to share personal information with this program's murky developers, then you should not purchase it.
No matter which version you go for (free or paid) the quality of its conversions will be the same. If you purchase SpeedyMediaConverter it might not show you advertisements as promised, but there is just no guaranties. Regardless, this program is unreliable and you might want to remove it. If you do not know how to do it, please refer to the removal guide provided at the end.
How to uninstall SpeedyMediaConverter
Windows XP
Click the Start button located on the Taskbar.
Go to Control Panel and click Add or Remove Program.
Locate the converter and click the Remove button.
Windows 7 and Vista
Click the Start button located on the Taskbar.
Go to Control Panel and click Uninstall a program.
Locate the unwanted program and click the Uninstall button.
Windows 10/8.1/8
Right-click on the Start menu located on the Taskbar.
Go to Programs and Features.
Locate the undesirable software and right-click on it.
Click the Uninstall button.
In non-techie terms:
SpeedyMediaConverter is a functioning media converter, but it is also regarded as a potentially unwanted program due to its poor converting quality and its ability to display unreliable commercial advertisements and collect information about its users. This program can also be purchased to avoid advertisements, but it is really not worth the money. If you have SpeedyMediaConverter on your computer, then you might want to opt for another converter.