Do you know what Speedyapp is?
Speedyapp is a desktop application that shows information about your Internet connection in the lower-right corner of the screen. The program is free of charge, so you should be alert to the possibility of being shown some third-party advertisements. The display of advertisements is one of the means to earn money after releasing a free product, and Speedyapp is one example of how software developers gain revenues.
Due to the behavior exhibited, Speedyapp falls into the category of potentially unwanted programs. Speedyapp has its official website speedyapp.co but is distributed alongside other programs. If you pay no attention to the terms of use or privacy statement displayed, you may accidentally install many undesirable applications. If you have no intention of using this program, remove it from the computer immediately and do not forget to shield the system against more dangerous programs.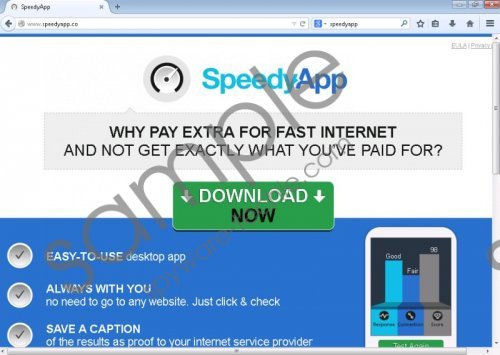 Speedyapp screenshot
Scroll down for full removal instructions
The Speedyapp software is identical to some advertising-supported programs, including SpeedChecker and TestSpeeder. Moreover, Speedyapp is very similar to Remarkit and VeriBrowse. All these programs are categorized as adware, and we recommend that you avoid installing such programs so that you do not get deceived by malicious websites.
Speedyapp is not liable for its advertisements, i.e., it does not accept responsibility for the ads delivered to your browsers. Every website to which you are directed by Speedyapp pop-ups is supposed to have its privacy policy, and, once you click on a Speedyapp pop-up, you start interacting with a certain website at your own risk.
Note that by installing Speedyapp, you allow the program to make changes on your operating system, especially in proxy settings. Speedyapp scans your operating system and programs to ensure that the Speedyapp is compatible with your OS and software. Moreover, it may alter proxy configuration or attempt to prevent unauthorized changes initiated by malicious programs. There is no guarantee that you will be protected against malicious programs, and Speedyapp will not accept responsibility for any damage caused by third parties.
Additionally, it is important to mention that Speedyapp gathers some information about your operating system and browsing behavior. This information is collected for various purposes and may also be shared with third parties. You can put an end to this monitoring by removing Speedyapp, and, the sooner you do it, the better.
Below you will find our step-by-step instructions on how to uninstall Speedyapp, but our advice is that you implement SpyHunter, which is a powerful malware and spyware removal tool. Bear in mind that your operating system can get afflicted at any time, so, if you want to be secure on the Internet, you should keep the system protected against browser hijackers, adware programs, Trojans, rootkits, and many other threats.
How to remove Speedyapp
Windows Vista and Windows 7
Click Start menu.
Select the Control Panel option.
Click Uninstall a program.
Remove the Speedyapp program.
Windows XP
Open the Start menu.
Click Control Panel.
Click the Add or Remove option.
Uninstall Speedyapp.
Windows 8 and Windows 8.1
Press Win+R and type in control panel.
Click OK.
Select Uninstall a program.
Remove the Speedyapp program.
In non-techie terms:
Having removed the unwanted program, consider installing a reputable scanner so that you can find out whether your operating system is malware free. Below you will find our step-by-step instructions on how to install our recommended security program, but, keep in mind that our team is ready to answer to your questions in case you encounter any difficulties related to software installation of malware removal.