Do you know what Speedy SystemCare is?
Speedy SystemCare is presented as a useful application that can clean and speed up the computer in no time. At first glance, it seems to be a 100% trustworthy PC optimization tool; however, not all that glitters is gold. Our experienced malware researchers have carried out a thorough analysis in their internal lab to find out how it acts in reality. Unfortunately, it has turned out that the application has some drawbacks. As a consequence, specialists have decided to classify it as a potentially unwanted program (PUP). The analysis has also revealed that Speedy SystemCare shares similarities with Power Cleaner 2018, Win Speedup 2018, and some other programs. These programs are also known to be potentially unwanted software, so you should not install any of them on your PC even if they seem to be perfectly decent tools for cleaning the computer. Luckily, potentially unwanted programs can be deleted quite easily, so if you feel that you have made a mistake by installing Speedy SystemCare on your system, or you have simply found it installed on your PC without your knowledge, removing the undesirable program completely is what you should do. If you have no experience with suspicious software and its removal, it would be best that you read this entire report the first thing and only then take action to remove Speedy SystemCare.
Before you install Speedy SystemCare on your computer, you must know one thing – you will have to purchase the license of this PC optimization tool to improve the system's performance. The free version of this program is just a diagnostic tool that cannot fix any issues. In other words, it works as a scanner that lists all the issues that might have an impact on the system's performance. To be more specific, Speedy SystemCare lists untrustworthy software found, various items that may have an impact on the system's performance, items that may impact startup time and hard drive space, and, finally, items that impact system software and software installed by the user. You can upgrade the program for 23.95 EUR. The program is relatively cheap, but it does not mean that you should hurry to purchase the license because we believe you could find a better PC optimization tool in the same price range. As mentioned, Speedy SystemCare is considered to be a potentially unwanted program (PUP). It does not mean that this piece of software is harmful malware, but it has some drawbacks, and we do not think that it is smart to invest in the program that might act in an undesirable way.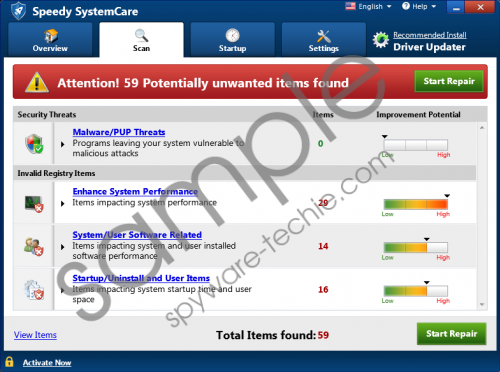 Speedy SystemCare screenshot
Scroll down for full removal instructions
We are 100% sure that some users download and install Speedy SystemCare consciously because this program can be downloaded by anyone looking for a PC optimization tool from its official website http://winsyscareutils.net. Alternative distribution methods might be used to promote it too, as research has clearly shown. Most probably, users can also install it from ads, specialists say. They might encounter them by simply surfing the Internet. Ads promoting software might be shown on hundreds of different websites, including file-sharing and torrent websites. If you have installed Speedy SystemCare, it is very likely that you have given the green light to the entrance of Driver Updater, another potentially unwanted program, as well. This piece of software is presented as an additional offer during the installation of Speedy SystemCare. You should delete it from the system completely together with Speedy SystemCare. As you have probably understood, we do not think that keeping potentially unwanted software installed on the system is a very good idea.
If you have installed Speedy SystemCare by mistake, it has turned out to be useless, or you are simply against upgrading software that is not 100%, you should delete Speedy SystemCare today. If you have erased a program using Control Panel at least once, you should delete Speedy SystemCare without difficulty. Luckily, unlike some other potentially unwanted applications, Speedy SystemCare does not leave any leftovers.
Delete Speedy SystemCare
Windows XP
Click Start.
Select Control Panel.
Click Add or Remove Programs.
Select Speedy SystemCare and click the Remove button.
Windows 7/Vista/8/10
Press Win+R.
Insert Control Panel and click OK.
Click Uninstall a program.
Select Speedy SystemCare.
Click Uninstall.
In non-techie terms:
Speedy SystemCare is not a program you should install if you want to improve your computer's overall performance for free because this application will only scan your system and list the existing issues unless you purchase the license and thus upgrade it. It is not considered dangerous, but you should not keep Speedy SystemCare if it has already been installed on your PC but you are sure that you will not upgrade it – it might regularly present you with annoying pop-ups to remind you about the detected issues.