Do you know what Speedy PC Pro 2018 is?
Speedy PC Pro 2018 promotes itself as a beneficial PC optimization tool. Even though it really does look beneficial, you should ask yourself whether you really want to install it because it is known to be a potentially unwanted application. Potentially unwanted applications like this PC optimizer are not harmful, but they have some clear drawbacks that distinguish them from legitimate software. Speaking about Speedy PC Pro 2018, this PC optimization tool may offer users to install additional software, e.g. Driver Updater. In other words, it comes bundled, which is one of the major drawbacks of programs classified as potentially unwanted software. Additionally, before you install Speedy PC Pro 2018 on your computer, you should know that this application is not free. You will have to upgrade it if you decide that you want it to remove all found PC issues for you automatically. To tell you the truth, this is not what we recommend doing. Since there are so many reliable programs out there, we would vote for purchasing another program that is not classified as a potentially unwanted application. If you are not going to invest in Speedy PC Pro 2018, there is no point in keeping it installed either. The application can be removed manually by deleting all its components one by one, but it is no doubt easier to erase it using Control Panel. In case these two words do not tell you much, you should continue reading this article to learn more. Then, feel free to use our manual removal guide – you will find it right below the last paragraph.
Once Speedy PC Pro 2018 is installed on the system, it automatically launches the scanner and performs a system scan to inform users about the found issues. It finds malicious software, various items that have an impact on system performance, items that impact system and user-installed software performance, and items that impact startup time and space on the hard drive. It does not show any fake results; however, it seems that it finds only those issues that are not very serious, for example, empty registry keys. It is no doubt important to remove untrustworthy software (malware) from the system, but you might not even notice that your PC performance has improved if you delete insignificant items like empty registry keys. One more drawback of Speedy PC Pro 2018 is that it is not a free tool. In other words, once system issues are found and you click the Start Repair button, you will be asked to upgrade the application. Its license costs 23.95 EUR, but if you get a discount, you will pay only 11.98 EUR. The tool is not very expensive, but since it cannot remove any serious problems, it would be best that you invest in another trustworthy PC optimization tool. As mentioned, if you are not going to do that, we highly recommend that you delete Speedy PC Pro 2018 from your computer completely. If it stays active, it might start showing various annoying pop-ups to convince you to purchase the license.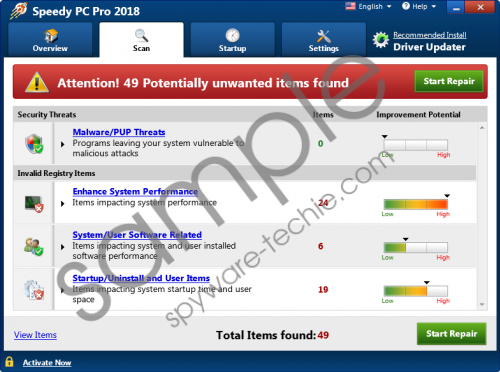 Speedy PC Pro 2018 screenshot
Scroll down for full removal instructions
Some users download Speedy PC Pro 2018 from http://www.techypccleaner.com consciously, but if you are not one of those users, i.e. you have found this application installed on your computer out of the blue, there is a possibility that it has been installed on your PC without your permission. For example, it could have been installed on your computer as an additional offer. Potentially unwanted programs like Speedy PC Pro 2018 might also be promoted by various commercial advertisements. Theoretically, any website on the web might display them to you, but users usually encounter these ads when they open file-sharing websites.
Feel free to remove Speedy PC Pro 2018 from your system if you have found it useless, or you are simply not going to upgrade it. You do not need to be an expert to remove it from the system manually. If you know how to remove software using Control Panel, you will erase Speedy PC Pro 2018 without difficulty as well.
How to remove Speedy PC Pro 2018
Windows XP
Click Start.
Select Control Panel.
Click Add or Remove Programs.
Select Speedy PC Pro 2018 and click Remove.
Windows 7/Vista/8/8.1/10
Tap Win+R.
Type Control Panel and then press Enter on your keyboard.
Click Uninstall a program.
Select Speedy PC Pro 2018.
Click Uninstall.
In non-techie terms:
Speedy PC Pro 2018 looks like a beneficial PC optimization tool, but, as you will see for yourself if you install it on your computer, it will not act beneficially unless you purchase its activation key and upgrade it. The application is not expensive, but, in our opinion, you should not invest in a potentially unwanted application when there are so many other trustworthy PC optimizers available on the market.