Do you know what SpeedTest3 is?
SpeedTest3 is an adware application, which means it can show various irritating advertising material to its users. Those who come across this extension ought to be cautious with its displayed ads as there is a chance some of them could be potentially malicious. Therefore, before interacting with such content, it would be best to check if it comes from a reliable source. Of course, the safest option is to make sure you do not encounter such ads and to do so we recommend removing SpeedTest3 from your browser. The application's provided speed test tool does not look advanced, and if you search the Internet, you should easily find more reputable online Internet speed testing tools. Consequently, we advise not to take any chances with this adware and get rid of it with no hesitation. If you think deleting it would be for the best as well, we invite you to have a look at the removal guide available below as well as read the rest of our report.
The adware is available on Chrome Web Store (chrome.google.com/webstore/detail/speedtest3-ads/gfpioeglfjecbkeeomdidlndcagpbmjf), but we doubt it is the only way to download SpeedTest3. Our computer security specialists say the adware could also travel with pop-up ads, bundled software installers, and so on. Knowing this we advise our readers to be more cautious while surfing the Internet, especially when downloading new tools. Before clicking the download or install button, you should find out more about the suggested software, for example, details like who developed it or how do experts and other users review it. Gathering all available facts can help you identify untrustworthy applications. Another thing that could help you avoid potentially malicious material is a reliable antimalware tool. Thus, whenever you are in doubt, do not forget you can scan suspicious installers and other data obtained from the Internet by scanning it with your chosen security tool.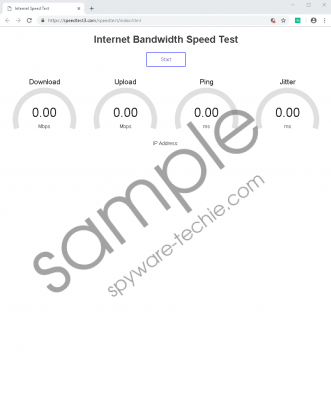 SpeedTest3 screenshot
Scroll down for full removal instructions
Users who add SpeedTest3 onto their Google Chrome or Mozilla Firefox (the two browsers it is compatible with) should get access to a free Internet speed testing tool. There is not much to say about it as the application does not look advanced. Truth to be told, even the software's creators do not talk about it when presenting extension. Instead, the adware's description talks about how SpeedTest3 could show advertising material. Our computer security specialists say it might start showing advertising material signed "Promotions by SpeedTest3 ads," soon after settling in. The reason we advise being cautious with third-party ads is the software's developers say they cannot promise such material will be reliable. This and other statements about the advertisements the extension might show can be found on its Privacy Policy and End User License Agreement documents. Naturally, if you do not want to risk coming across potentially malicious ads, we advise you to remove the adware at once.
One way to erase SpeedTest3 for good is to delete it from the browser's Extensions menu. Our computer security specialists warn users they should restart their browsers afterward; otherwise, the adware may show up again, so if you choose this option, make sure you complete all of the steps available a bit below this text. The other way to erase the unreliable extension is to download a reliable antimalware tool, scan the computer with it, and then click the provided deletion button to take care of all detections at the same time.
Eliminate SpeedTest3
Google Chrome
Open Google Chrome.
Paste this link: chrome://extensions into the browser's address bar.
Press Enter and search for the adware.
Tap Remove and exit Extensions menu.
Restart your browser.
Mozilla Firefox
Open Mozilla Firefox.
Paste this link: about:addons into the browser's address bar.
Click Enter and go to Extensions.
Locate SpeedTest3 and remove it.
Exit Extensions menu.
Restart your browser.
In non-techie terms:
SpeedTest3 falls under the classification of adware as the application may show various advertising material from different third parties. In return, it offers a rather poorly developed Internet speed test tool free of charge. However, there are plenty of reliable online tools for testing the speed without having to install anything, which is why we find the feature useless. Moreover, it is essential to understand some of the extension's shown advertising content might be potentially dangerous and so interaction with it could put the system at risk. If you do not want to risk it, we advise deleting the adware at once. To help users get rid of the suspicious extension, we have prepared a removal guide available a bit above this paragraph. The application can be eliminated with an antimalware tool too, so if you prefer it, we would recommend obtaining a reputable tool you could trust.