Do you know what SpeedOptimizerGuru is?
SpeedOptimizerGuru is one of many PC speed optimizers that have been labeled as potentially unwanted programs. This means that the application is not an infection, but it does not do anything good either. Therefore, many suggest removing this application, because it is a waste of hard drive space. In this article, we will discuss how this applications works, how it is distributed, and so on. We will provide the most essential information that will prove to you that SpeedOptimizerGuru is an undesirable program. So without further ado, let us begin.
SpeedOptimizerGuru has been released by a software developer called SurfProtect.co. This alleged optimizer is distributed via its dedicated promotional website at Speedoptimizer.guru. This website features all kinds of advertising slogans that try to convince you that this application is the real deal, and, perhaps it is, but it is very suspicious as you will learn as we go further. In addition, this application is known to be bundled with browser hijackers, such as Snap.do and other potentially unwanted applications, such as VuuPC. So this application has no shortage of companions that it gets to go along. The applications are bundled with an InstallCore installer. To our knowledge, SpeedOptimizerGuru is put up for download on shady freeware websites.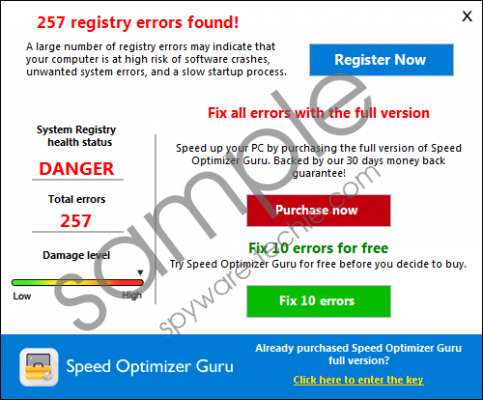 SpeedOptimizerGuru screenshot
Scroll down for full removal instructions
As far as its supposed functions go, SpeedOptimizerGuru is said to Repair windows registry issues by deleting or fixing missing, damaged or corrupted files and values. It is also said that it will prevent PC crashes and freezes, safeguard your data, maintain PC health, and optimize your browser, and so on. It gives the false impression that it is the best and only tool you need to maintain your computer's optimum performance. However, it will not show detailed information about its scan results which is often done by potentially unwanted applications that pose as legitimate PC optimizers. Furthermore, it will not fix the errors until you purchase this program. There is no free trail for 30 days like some programs have. The cost of this application is $24.99 USD and the developers made the purchase very convenient by supporting Visa, MasterCard, and other payment types.
Since SpeedOptimizerGuru does not provide any information about the threats and issues it detects makes it unreliable. In any case, you can easily find similar applications that can do at least some of its supposed functions free of charge, so there is no reason to purchase it. Besides most antimalware scanners detect SpeedOptimizerGuru as a threat and remove it.
If you want to remove it manually, feel free to use our removal guide provided below. Just to recap what has been said, remember that SpeedOptimizerGuru is distributed with other PUP's and malicious applications in a software bundle. There is no way of knowing what this program is actually scanning for and if it will be able to fix the detected issues. Purchasing an application without knowing what it actually does is a bad idea. Therefore, you might want to remove SpeedOptimizerGuru and get yourself a free program instead.
Remove SpeedOptimizerGuru from the operating system
Windows XP
Open the Start menu and go to the Control Panel.
Open Add or Remove Programs.
Find and Remove SpeedOptimizerGuru
Windows Vista and 7
Open the Start menu and go to the Control Panel.
Click Uninstall a program.
Find SpeedOptimizerGuru double-click on it.
Uninstall.
Windows 8 and 8.1
Press Win+R.
Type Control Panel and click OK.
Go to Uninstall a program.
Find SpeedOptimizerGuru and right-click on it.
Click the Uninstall button.
In non-techie terms:
SpeedOptimizerGuru is regarded as a potentially unwanted application, because of its questionable functionality. The application will scan your computer, but will not provide any information regarding its search results. It will only give you a number of the detected threats. The program will ask you to purchase it in order to fix the detected errors. But you cannot be sure that the scan is actually real. So you should consider removing SpeedOptimizerGuru and getting another program, preferably a free one, because they are in ample supply.