Do you know what Speedomizer is?
Speedomizer is a program that you should not trust entirely. In fact, our malware experts advise you to remove it without any hesitation if it is ever found active on your personal computer. It is important to do so because malware researchers at Spyware-Techie.com have categorized as one more potentially unwanted program. Such classification has been made due to a couple of reasons. One of them being its limited and otherwise questionable functionality. Another one is its dubious distribution, which could prove to be quite dangerous, to put it lightly. In our detailed report, we provide further information about the inner workings of this potentially unwanted program. Also, you will find a few virtual security recommendations, which will help you maintain a secure system at all times. To help you delete Speedomizer, we include a comprehensive removal guide.
Speedomizer is primarily advertised as a great tool. Statements on its official website claim that this application can accurately measure your Internet speed. Unfortunately, quite a few users obtain this program due to such marketing tactics. However, there is something much more suspicious about it. During the in-depth analysis, our malware experts have discovered that it functions poorly, to put it lightly. As it turns out, the results of the test are not entirely trustworthy since they can present you with misleading information at any given time, and you would not have an idea about it. While such insufficient functionality should be a reason enough to delete this potentially unwanted program, you must know that upon further analysis, it has been discovered that this application can collect certain information about you and your online habits. It might gather information in regards to sites you visit, the time you spent on them, your geographical location, and your ISP (Internet Service Provider). What is more alarming is the fact that such information could be shared with unknown third-parties, which could prove to be quite dangerous as those third-parties might as well include malware developers. It goes without saying that such functionality should not be trusted under any circumstances and that there are better tools that you can find online to determine your Internet speed. Make sure to delete Speedomizer at the very same instance that it is found up and running on your personal computer. To do that without encountering any major problem, make use of the detailed instructions that we present below.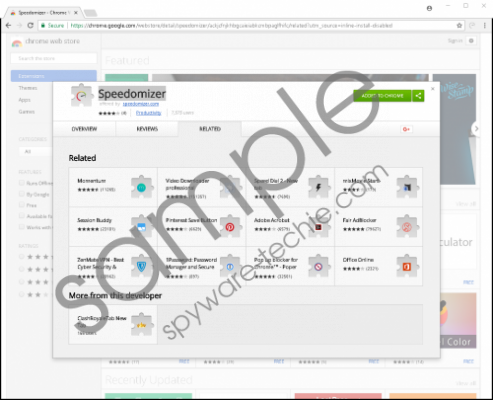 Speedomizer screenshot
Scroll down for full removal instructions
As mentioned earlier, another major reason for classifying Speedomizer as a potentially unwanted program is its questionable distribute. While you can download it from its official developers' websites, it is critical to note that in quite a few cases it could be spread via bundled installers. Such setup files are infamous for being a major source of dubious software. Thus, it is a good idea to check your entire operating system for questionable applications, if you already have Speedomizer active on your personal computer. To lower the risk of coming across suspicious application, we urge you to avoid all questionable download sites because they tend to host a large number of bundled installers, which malware developers tend to use for distribution. Also, you should always learn as much as you can about any application before downloading it because cyber crooks tend to employ misleading marketing techniques to trick naive Internet users into obtaining and installing their devious applications without knowing what they do. Finally, to ensure your operating system's security, you must install a professional antimalware tool if you do not have one already. Such a tool is the most important part of your overall virtual security because it can identify and warn you about any virtual security threat in advance.
It should be quite obvious that you must delete Speedomizer without any hesitation. To do so, make sure to use the instructions that we provide below. As soon as you are done with the instructions that we present below, make sure to recheck your PC for anything linked to Speedomizer. Such analysis of your operating system is crucial because traces of this potentially unwanted program could act deviously. For example, traces might be used to restore this dubious application without your knowledge. Also, those leftovers could be enough for Speedomizer to continue its questionable functionality. Thus, by executing a detailed analysis, you will be sure that the potentially unwanted program has been removed successfully.
How to remove Speedomizer from your computer
Google Chrome
Start your web browser.
Click the Chrome Menu button select More tools.
Click Extensions.
Click the Trash can icon next to the unwanted extension.
Select Remove to confirm your choice.
In non-techie terms:
If you are a users that finds manual removal of Speedomizer a bit too challenging, do not worry. Below we provide an alternative removal guide. Follow these instructions with care, and you will be able to delete this potentially unwanted program in a fully automated manner.