Do you know what Speed Test Guide is?
Speed Test Guide is a potentially unwanted program that can be added to your Chrome browser as an extension. To be honest, it doesn't look like Speed Test Guide is suspicious or anything like that, but if security researchers maintain that this app might be unwanted, you should probably double-check whether you really wanted it in the first place.
Luckily, there is no need to panic as this app is not a malicious infection. If you want Speed Test Guide gone, you just need to remove the extension from your browser. You can find the removal guidelines at the bottom of this description.
To learn more about this application, we can visit its official website. The site can be easily accessed via speedtest-guide.com. There, you can see that the site offers you to find out more about your Internet speed. You can check "download, upload & ping speed results," as well as "find your IP address, ISP details, and more." In other words, the page offers to test just how fast your Internet is, and Speed Test Guide is part of the plan. It doesn't look like there could be anything suspicious about Speed Test Guide.
Not to mention that the extension also has a page at the Chrome Web Store. It means that when users come in contact with this application, it clearly looks believable and reliable. Yet, we believe that the official websites are not the only distribution sources for this app. There is a good chance that it can also be added to your browser accidentally through a random pop-up that jumps into your screen when you access some file-sharing or online gaming website. Sometimes, users don't even understand that they can decline adding the extension, and they simply click the Add button without any second thoughts. What happens then?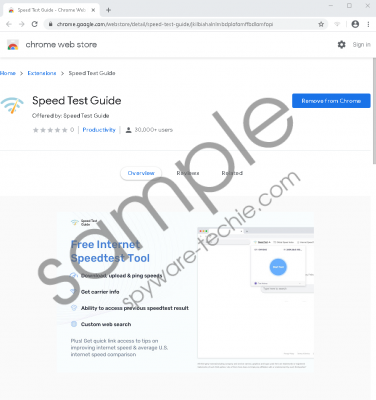 Speed Test Guide screenshot
Scroll down for full removal instructions
Well, when you add Speed Test Guide to your browser, the extension asks for permissions. The list of permissions includes: "replace the page you see when opening a new tab," and "read your browsing history." It means that the extension modifies your new tab settings. It is also able to switch your default search provider into a modified Yahoo! Search page. Does that mean Speed Test Guide is in any way related to Yahoo! Search? Not really. It's actually a very common practice among potentially unwanted applications. They don't have their own search provider, so they make use of a well-known search engine to display customized search results.
Now, why would we say that Speed Test Guide displays customized search results? Remember the "read your browsing history" permission? It means that this application can monitor your browsing history with tracking cookies. Although it cannot collect personally identifiable data, once it has enough information, it can generate your online profile. It knows the websites you frequent, and the search keywords you use the most often. Thus, it can offer you search results that are in some way related to your likes and preferences.
This is not anything malicious, and a lot of websites employ this tactic to make their ends meet. After all, they get paid if you click the links they promote. However, Speed Test Guide and other similar extensions are not responsible for the third-party content security. Therefore, if there's anything dangerous about the pages they promote, they won't warn you about it. Although the possibility of a malware infection is very low, you still have to take all the risks into consideration. Hence, if you didn't plan to add Speed Test Guide to your browser, it's about time to remove it.
You can delete the extension through your browser's settings. On the other hand, there might be more unwanted extensions added, too. Thus, we recommend resetting your browser's settings to default. Save all the passwords you might need, and then follow the guidelines below to get rid of all the potentially unwanted apps. When you are done with that, scan your computer with a licensed antispyware tool. Potentially unwanted programs seldom travel alone, so you need to make sure that you terminate all the unwanted guests at once. When in doubt, don't hesitate to drop us a comment.
How to Remove Speed Test Guide
Open your Chrome browser.
Press Alt+F and click Settings.
Click Advanced at the bottom of the page.
Scroll down and press Restore settings to their original defaults.
Click Reset settings.
In non-techie terms:
Speed Test Guide is an extension that modifies several settings on your browser. It might feel intrusive if you didn't intend to have this application. There is no need to panic because it is very easy to remove Speed Test Guide. However, you shouldn't just leave it there even if it looks harmless. If you didn't want the app, you have to get rid of it. And while you're at it, you should run a full system scan with a powerful antispyware tool because you might have more unwanted programs on-board.