Do you know what Speed Optimizer Pro is?
Speed Optimizer Pro is one of the many ambiguous applications out there. The dubious distribution and questionable results presented by Speed Optimizer Pro are the main reasons that our team of qualified malware experts categorized it as a potentially unwanted program. If you are not using Speed Optimizer Pro and it got onto your operating system by accident, our team recommends you to remove it as it holds no value and could act in ways that are hard to determine.
Speed Optimizer Pro auto starts with Windows and displays a window advising you to scan your system for various errors. After the analysis at our lab, we concluded that although the initial results presented are legitimate some of them are also questionable. The application can detect actual system errors, ActiveX and COM errors, various junk flies, etc. But the unusual feature of the scan results is that Speed Optimizer Pro picks up on various temporary files. In reality, the removal of these files and errors will not improve your system's work all that much.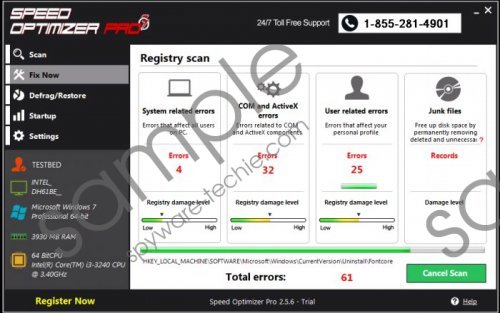 Speed Optimizer Pro screenshot
Scroll down for full removal instructions
After the scan is complete, you are advised to optimize your system. But once you try to do that you are asked to pay a certain amount of money. The price is $39.99, and the payment can be made via PayPal or debit/credit card. There are a lot better options regarding applications that would optimize your system; thus, we do not recommend using Speed Optimizer Pro, in fact, our team advises to delete it as it is suspicious to say the least.
Distribution of Speed Optimizer Pro is questionable as in most cases it is distributed via bundled software. A lot of software that are spread in this manner is considered to be undesirable because it exploits the users' common weakness – attention. Users do not tend to pay proper attention to the installation process; therefore, they end up with applications on their system that they do not want to have. There is no better advice than telling users that they must read everything with caution while installing any application onto their system.
In order to remove Speed Optimizer Pro, you should follow the removal guide that we provide below. Because Speed Optimizer Pro is not malicious and aggressive, the removal process will be relatively easy. The reason to remove any potentially unwanted application is that it is impossible to determine how the application will act in the near future. Certain updates of applications like Speed Optimizer Pro could be detrimental to put it mildly. It is a good idea to implement malware detection and removal tool as it can remove threats like these in a timely manner.
How to remove Speed Optimizer Pro for your system
Remove from Windows 8
Move the mouse cursor to the lower-right side of the screen.
Select Settings in the Charm bar.
Select Control Panel.
Select Uninstall a program.
Locate and remove Speed Optimizer Pro.
Remove from Windows 7 and Windows Vista
Click the Windows button in the lower-left side of the screen.
Select Control Panel.
Click Uninstall a program.
Select and remove Speed Optimizer Pro.
Remove from Windows XP
Tap the Windows key on your keyboard.
Select Control Panel.
Select Add or Remove Programs.
Find and remove Speed Optimizer Pro.
In non-techie terms:
Even though, Speed Optimizer Pro is not dangerous to your system by itself you are not recommended to keep it on your system because it could come bundled with infections. Furthermore, it is not beneficial in any way, and it will not speed up your system. If you want to remove Speed Optimizer Pro quickly please follow the instructions below.