Do you know what SongsCenter Search is?
SongsCenter Search is a Google Chrome browser extension that should make searching for music, songs, full albums, and music videos a considerably easier process. It seems that users believe that it is a beneficial piece of software because there are already 156 039 users who have installed this extension from the Chrome Web Store (https://chrome.google.com/webstore/detail/songscenter-search/ojbimichjpkfdgpoiedkbjlphjnjclli). Of course, the total number of users should be higher because research has shown that not all the users download it from its official source. Others find this extension installed on their browsers without their knowledge. No matter how it gets onto users' computers, it acts the same in all the cases. It is not a malicious application for sure, but our malware researchers have proof that it is not a fully trustworthy program either – they have put it next to other potentially unwanted programs. The rest of this article will explain to you why they do not consider this program fully reliable.
Its description at the Chrome Web Store tells users that SongsCenter Search can configure the default search upon the entrance, but it does not change the main settings of browsers. The only thing you will notice after installing it is a new button in the top-right corner of your browser. It opens a small window with a search box. Some users find this feature quite useful because they can search for music and videos straight from their browsers, but, unfortunately, this still does not make SongsCenter Search a fully trustworthy browser extension. What specialists have found quite suspicious about it is that it requires permission to read and change data on all websites users visit. Also, it has turned out that it collects information about users. It should automatically collect only certain non-personally identifiable details. Additionally, it might also record your name, email address, country of origin, nickname, telephone number, title, and other personal details if you provide them voluntarily, e.g., when you contact the support. Although it claims that it does not sell any "personal information to third parties," we would not believe it blindly because it is still a potentially unwanted program. Yes, it is not a malicious application, but you should still be careful with it despite the fact that it looks trustworthy or you have found it quite useful.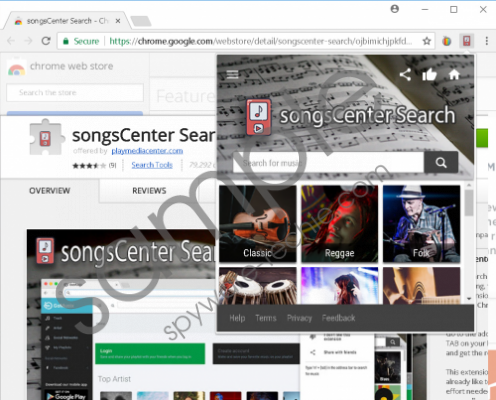 SongsCenter Search screenshot
Scroll down for full removal instructions
There is one more reason why SongsCenter Search is called a potentially unwanted program. It has turned out that it can affect users' browsers without permission. According to specialists, many users install this piece of software by clicking the Download button located on a pop-up promoting it. Theoretically, it can also arrive on users' computers bundled with third-party software. No matter how it has been installed on your computer, this does not change the fact that it is a potentially unwanted program, so you should not keep it active. It is not the first nor the last potentially unwanted application ever developed, so you should be more cautious from now on. Of course, these dubious applications might be quite sneaky, so you should not try to protect your PC alone – use an automatic security tool to ensure your system's maximum protection.
You do not need to have much knowledge about computers or malware to delete SongsCenter Search manually because it is an ordinary browser extension that can be removed via the add-ons manager. If this does not tell you much, use our manual removal guide. It does not mean that the manual method is the only one you can adopt. You can use an automatic scanner to erase SongsCenter Search too. It is up to you how you do that, just make sure this potentially unwanted program is disabled.
How to delete SongsCenter Search
Google Chrome
Start Google Chrome.
Press Alt+F and select More tools.
Click Extensions.
Select SongsCenter Search.
Click the trash button and then click Remove.
In non-techie terms:
We have to admit that SongsCenter Search looks quite a trustworthy browser extension, but, unfortunately, we still cannot confirm that it is safe to keep it active because it is a typical potentially unwanted program. These applications are not malware, but they might still perform suspicious activities. As for SongsCenter Search, it collects information about users. Also, it is definitely not one of those fully reliable programs because it might be spread using certain deceptive tactics.