Do you know what Somik1 Ransomware is?
Somik1 Ransomware is clearly a computer infection. This program will take you by surprise, but it doesn't mean that the responsibility of the infection falls entirely on the criminals' shoulders. The sad truth is that users accidentally allow such programs to enter their systems, and then they have to deal with tons of encrypted files. And while it may not be that hard to remove Somik1 Ransomware from the affected system, getting the files back is quite challenging. It might be almost impossible if you do not have a file back-up.
What's more, our research team says that Somik1 Ransomware is still under development. It is a very peculiar case because when ransomware programs are still under development, they often cannot encrypt the target files, or they cannot connect to its main server. However, that doesn't seem to be applicable to Somik1 Ransomware. The program successfully encrypts multiple file formats, and then users are supposed to contact the criminals via the given email address. With this, we can assume that a newer version of this infection will be released soon, too. And the current Somik1 Ransomware might be just a test run, to see how the infection could be improved.
This also shows that we have to be more responsible for the files we download and open on our computers. After all, ransomware doesn't enter the target systems unless we allow them to. Somik1 Ransomware, just like most of the other infections, happens to travel via spam email attachments. And we all know that spam attachments do not just jump into our computers. We have to download them, and here you might ask, why users download spam email attachments that are bound to be malicious?
That's because spam emails that distribute ransomware often look like legitimate notifications from reputable companies or even individuals. Also, these emails tend to come with an urgent message that simply bullies the worried user into downloading and opening the said file. Not to mention that the file looks like a legitimate document, so people seldom think there is something fishy about such attachments. Of course, you would save yourself the trouble of dealing with these infections if you were to scan the said files with a reliable security tool. A security scan would definitely detect a malicious file at once.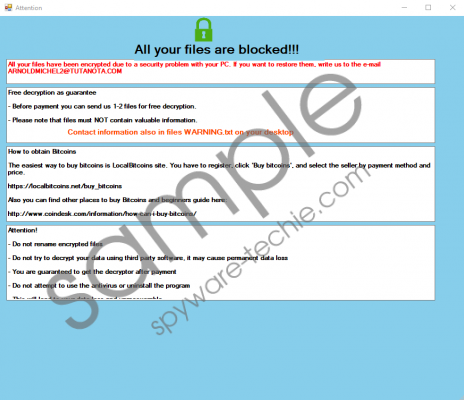 Somik1 Ransomware screenshot
Scroll down for full removal instructions
On the other hand, when the installer files manage to slip through, Somik1 Ransomware and other similar infections settle on the target systems. As far as we can tell, the moment this program enters your computer, it runs a full system scan to locate all the types of files it can encrypt. Also, the encrypted files receive an extension that says, ".arnoldmichel2@tutanota.com." The extension is the email address users have to use to contact the criminals about the ransom transfer. What's more, it allows you to see which files were affected by the encryption at once. That is not much of a help, however, because all the encrypted files would have different icons anyway.
Needless to say, Somik1 Ransomware avoids system files because it still needs your computer to function properly. After all, if the ransomware locks up your computer completely, you would have no way to contact the criminals and transfer the ransom payment. However, it is more than obvious that you should never contact these people as paying the ransom is not an option. Since the program is still under development, there is a very good chance that the criminals would just collect the payment and scram without issuing the decryption key.
To restore your files, you need to delete the encrypted copies and then transfer healthy copies of your data from an external storage device. Unfortunately, not everyone keeps a file back-up, and if you run out of ideas, we would recommend addressing a local professional who could help you with file recovery.
As for Somik1 Ransomware, you just need to remove the file that launched the infection to get rid of it. After that, be sure to run a full system scan with the SpyHunter free scanner. There might be more dangerous files or programs on-board, so you have to terminate them all at once.
How to Remove Somik1 Ransomware
Remove the most recent files from Desktop.
Open the Downloads folder.
Delete the most recently downloaded files.
Press Win+R and enter %TEMP%. Press OK.
Remove the latest files from the directory.
Run a full system scan.
In non-techie terms:
Somik1 Ransomware is a dangerous program that locks up your files and then expects you to pay the ransom fee to restore your data. Doing what this program wants is never a good idea because that only encourages ransomware creators to make more infections. Remove Somik1 Ransomware today, and then look for other ways to get your files back. If you want to learn more about various cybersecurity solutions, feel free to leave us a comment below.