Do you know what SoLucky is?
SoLucky is a questionable extension that appears to be compatible only with Google Chrome. Have you installed it on a different browser? If you have, you should consider deleting it as well. That is recommended because this seemingly useful extension can record information about your activity using silent cookies and then share data with unknown third parties. Unfortunately, that is something to be cautious about because many hijackers, adware, and PUPs can leak private information to malicious parties. If you want to know if this strange extension can do the same, you need to continue reading this report. And if you cannot wait to remove SoLucky from your Google Chrome browser, you will be happy to find the instructions below.
Is SoLucky a dangerous threat? Our research team does not classify this extension as one. At worst, it is a potentially unwanted program that does not offer services as beneficial as you might have thought it would. The official page representing this suspicious extension is http://solucky.co, but the installer is found at https://chrome.google.com/webstore/detail/solucky/hjoklbpknpobbafbckcopemdnlgiclbk. This Chrome web store installer represents the extension as the best tool for navigating the web faster. It is stated that the add-on can provide you with the best search results without introducing you to ads first. In fact, three results are supposed to show up in a box on the right before you even hit Enter to start the search. It is also suggested that the add-on uses the Google Search engine to showcase search results, and, of course, this search engine is popular and trusted. On the other hand, if you enjoy this engine, do you really need an extension to help you access it? This might be one reason to delete the add-on.
It is most likely that users acquire SoLucky not because it offers great search services but because it promises to donate money if you use it. It is suggested that "a grain of rice" is donated for every click that you save. You are introduced to the "saved clicks" count via the search box that appears with the top three results. That put aside, SoLucky is analogous to the Google's "I am feeling lucky" button, and if you do not find it useful, we are sure you can find better, more reliable ways to donate your time or money. The reason we are discussing the reliability of this extension is that it has been found to record data. As you can learn via the Privacy Policy, the add-on can employ cookies to record information about you and your interaction with the advertisements that are shown to you. This suggests that the add-on can potentially show ads as well, and that is suspicious. Another thing to keep in mind is that this add-on can share non-personally identifiable information with parties who are not disclosed. Also, there is reason to believe that surveys could be shown to you as well, and we do not recommend interacting with those. Overall, if you want to avoid cookies, surveys, advertisements, and other suspicious things, removing the add-on might be best.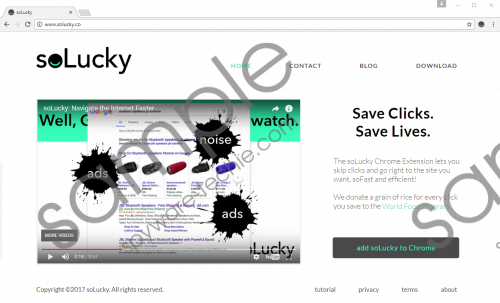 SoLucky screenshot
Scroll down for full removal instructions
You have to decide for yourself whether or not you want to delete SoLucky from your operating system, but our research team suggests considering this option carefully because this add-on can record information, track your activity, communicate with unknown parties, and potentially showcase unpredictable ads and surveys. If you decide that you want to remove SoLucky, we suggest following the instructions below. In case, you have installed the add-on using a malicious installer that bundled multiple unreliable programs together, we advise scanning your operating system with a malware scanner to help you assess the situation. If malicious threats are found, consider using an anti-malware tool to have them erased automatically.
Remove SoLucky from Google Chrome
Launch the browser.
Tap keys Alt+F.
Select More tools and then click Extensions.
Click the trash bin next to the add-on.
Select Remove.
In non-techie terms:
If you have installed SoLucky hoping that it can offer beneficial services, think carefully if this program is actually beneficial. If you do not find it that great, you might want to delete it, especially since it can track your activity and share certain details with unknown parties. The instructions you can see above show how to erase the extension manually, but if multiple threats are found, you might want to consider using anti-malware software instead. If you want to discuss the suspicious extension further, or you have other virtual security-related questions, do not hesitate to leave a comment below.