Do you know what Solo-Bar.net is?
Solo-Bar.net is a website that is set as your default homepage when you add a particular extension to your browser. This extension is not a malicious infection because it requires user's intervention to be installed on a target computer. However, quite a few users complain that this website and the extension seem to appear out of nowhere. Of course, we know that unwanted programs do not appear out of thin air. There is always a reason behind, and also the action you have to it. We mean that you have to remove Solo-Bar.net from your computer before the matters fall out of hand.
Perhaps one of the most important things about this potential intruder is the fact it can be found on the Chrome Web Store. This means that the program can be added to the Chrome browser from an official source, and it is rather hard to consider this application a security threat. However, we should also remember that browser extensions, freeware apps, and other similar programs often employ more than just one distribution method. So if you say that you do not remember downloading Solo-Bar.net on your system, you are most probably right. After all, the program could have arrived without your knowledge.
Now, how does that happen? Our research shows that this extension often comes bundled with freeware. So let us consider all the websites that host freeware applications as potential distribution sources for Solo-Bar.net. As you can imagine, the chances that users could install this extension on their computer accidentally are really high. Think about it, have you recently installed a new application? Where did you download it from? Was it an official website or some third-party file-sharing site? If it is the latter, then did you go through the installation steps one by one? Did you read all the additional clauses that the installation wizard had?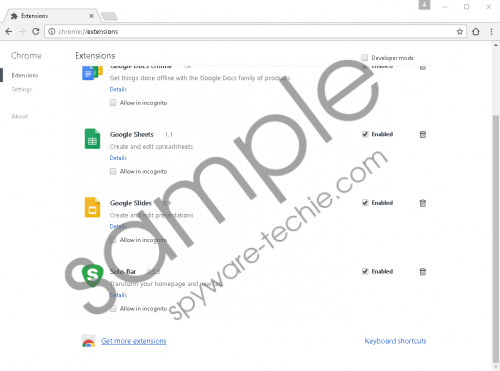 Solo-Bar.net screenshot
Scroll down for full removal instructions
The point is that quite often it is possible to avoid installing Solo-Bar.net and other similar applications, but users are not aware of the potential threats that might be hiding behind such practice. That is why it is necessary that you remain vigilant when you download and install applications from third-party sources. If you must, scan the third-party installers with a security tool that you have on your computer. If do not have it, invest into one because that is one of the most efficient ways to ensure your system's security.
However, now that this extension is on your computer, you should know what to expect of it. It might seem that it tries to provide you with some reliable and useful functions, but all the side effects of this application might be too annoying to ignore them. For instance, we are sure that Solo-Bar.net will collect information on your web browsing habits. Of course, it will not be able to steal your passwords or other sensitive information, but the program will know soon enough which websites you frequent. As a result, it will be able to display commercial advertisements that cater to your likes and preferences.
After all, that is the main reason Solo-Bar.net enters your system. Adware programs might try to pass for something useful, but they always have money on their figurative minds. Also, this program is created by Via Advertising Group Limited, which is also responsible for playbar.biz, play-bar.net, magic-bar.net, and other domains associated with commercial advertising. Here you might ask, what is wrong with commercial advertising?
Technically, there is nothing wrong, and it is far from being illegal. But we have to remember that Solo-Bar.net enters your system without your permission. Even if the program is not dangerous, it should not be tolerated when it sneaks it behind your back. Second, the extension could be vulnerable to third-party exploitation.
It is quite possible that the application could be misused by cyber criminals, so you should not take your chances. Remove Solo-Bar.net from your system right now by deleting it from the list of extensions. When you are done, scan your computer with a security application that will help you locate other potential threats. Finally, protect your PC from harm by keeping your security tool up-to-date, and do not forget regular system scans!
How to Remove Solo-Bar.net
Open the Chrome browser.
Press Alt+F and click More tools.
Click Extensions and remove Solo-Bar from the list.
Restart your browser.
In non-techie terms:
There might be many extensions on your browser you do not recognize. Very often, these programs come in packages with applications that users download willingly, and then they are left to deal with an entire bunch of unnecessary apps. If you happen to have Solo-Bar.net on your computer, be sure to remove the extension from your browser because there is no use to keep it if you do not want it. Finally, to ensure that your computer is safe and secure, get yourself a reliable antispyware tool.