Do you know what Smooth Search Tab is?
Smooth Search Tab is promoted as a tool that changes the New Tab page on Google Chrome to provide users with "useful links" and help them search for "desired information, images, videos, and more" using Bing. The funny thing is that when we analyzed the extension, it actually offered Google search instead, which makes this tool very suspicious and even unpredictable. What if it switches to a completely different search tool? One that is not as well known or trustworthy? That is not the only reason why it has caught the attention of our team. We suggest that you remove Smooth Search Tab because it is not useful and mainly because it collects and shares personal information with parties we know nothing about. Whether you have already decided to delete the PUP or you are still researching it, continue reading to learn more.
It is possible that you downloaded Smooth Search Tab from the Chrome Web Store. The installer of this PUP is at chrome.google.com/webstore/detail/smooth-search-tab/mfpnmamdicmfhemmnpbkldadnibnkfig, and the information presented on this page informs that the extension is beneficial. Of course, this is what the creator of the extension wants you to believe. It appears that AdsBrain is the creator, and the Privacy Policy supporting the PUP can be found at smoothsearch.online/privacy. Reviewing this document is very important, and when we did that, we discovered a few interesting things. For one, the creator works with unknown "third party partners" who can employ cookies "for advertising purposes." Also, personally identifiable information can be collected and shared with "service providers" and "business partners." If this makes you uncomfortable – and it should – deciding on the removal of the PUP should not be difficult.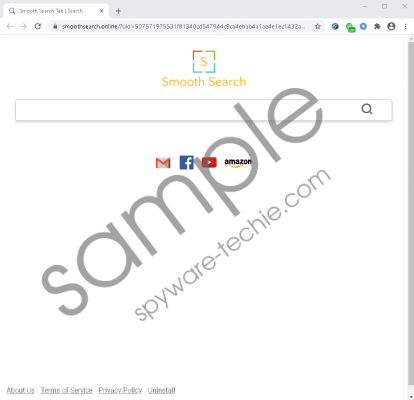 Smooth Search Tab screenshot
Scroll down for full removal instructions
The New Tab page on your Google Chrome browser is replaced by smoothsearch.online after you install Smooth Search Tab. The interface of this webpage presents a search dialog box and a few easy-access links to popular websites, such as facebook.com and amazon.com. In general, it looks completely normal, and some people are likely to trust the engine without thinking twice about it. Of course, you now know that the extension is not completely trustworthy. Even if it was harmless, do you really need an extension to access Bing, Google, or any other well-known search engine? You do not, and you need to understand that there is always hidden agenda when it comes to PUPs like this one. Its services are free, and they might seem useful too. So, what's in it for the creator? Most likely, they earn money for collecting marketing-related information and promoting third-party services. Smooth Search Tab is not all that useful, and that is why we recommend that you think about its removal.
If you come to the conclusion that you want to delete Smooth Search Tab, there is one more thing you should think about. Additional PUPs and even malware. We do not claim that you definitely need to delete other threats from your system, but that is something you have to check whenever a single PUP manages to slip through. Hopefully, a malware scanner you employ finds nothing, but if it does, you should perform the removal as soon as possible. We recommend using the help of anti-malware software for that. If you want to delete Smooth Search Tab manually – which might be a good option if other threats do not exist and if you know how to take care of your system in the future – follow the instructions below.
Remove Smooth Search Tab from Google Chrome
Open the browser.
Type chrome://extensions into the address bar and tap Enter.
Remove the PUP.
Type chrome://settings/clearBrowserData into the bar and tap Enter.
Open the Advanced menu.
Pick a time range, pick boxes, and click Clear data.
In non-techie terms:
Whatever your reason to delete Smooth Search Tab from the Google Chrome browser might be, there is no denying that this extension is not all that useful or even completely trustworthy. Hopefully, other PUPs or malicious threats do not exist on your system, and you do not need to spend a lot of time removing Smooth Search Tab yourself. That can be done either manually (see guide above) or automatically. Without a doubt, we recommend implementing anti-malware software that performs the removal automatically if the PUP exists along with other threats or if you need basic help in keeping the system safe and protected in the future.