Do you know what SmartPackageTracker is?
If you shop online frequently, you might be tracking numerous packages at the same time. In the hopes that Firefox and Chrome users are struggling, SmartPackageTracker was created. This extension is officially represented at smartpackagetracker.com and can be downloaded from the Chrome web store (chrome.google.com/webstore/detail/smart-package-tracker/hjgmoapaiopoahenbjkkkjiadabjgfmd). It is supposed to track any package, regardless of the delivery service used, and that kind of a service can be quite appealing to many. The problem is that the extension is not that helpful, and besides "tracking" packages, it is fully focused on recording information and relaying it to third parties who work with advertising. Can this extension be trusted? If you continue reading, you will learn that it is not exactly trustworthy. We also explain how to delete SmartPackageTracker, and which removal methods might be suited to you best in your situation. If you are curious, please keep reading.
If you did not install SmartPackageTracker from its official website or the Chrome web store, you might have used an unreliable installer instead. Were malicious programs downloaded along with the PUP (potentially unwanted program)? If you do not know for sure, install and run a real malware scanner. It will let you know if there are threats that require removal. Hopefully, there aren't, and you can focus solely on the PUP. This is the classification of the extension because it is not unreliable but also pretty much useless too. If you have installed it already, you know that it changes the New Tab page to represent smartpackagetracker.com/homepage/homepage.html. This page showcases a search field in the center of the page. At the top, you can find easy-access links to canadapost.ca, aramex.com, yodel.co.uk, tnt.com, and lasership.com websites. Overall, the extension DOES NOT offer a package tracking service. Instead, it links to sites that offer that service. This is the first reason to remove SmartPackageTracker.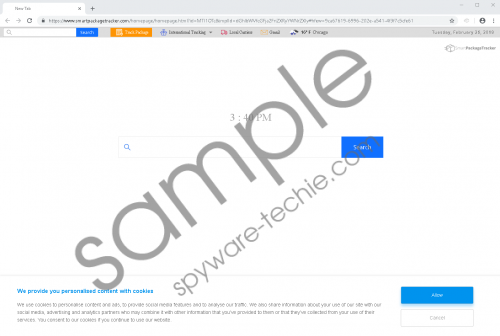 SmartPackageTracker screenshot
Scroll down for full removal instructions
Our research team agrees that it is most important to delete SmartPackageTracker to protect yourself. If you continue using this potentially unwanted program, it will track your virtual behavior and collect data. This data can be shared with third-party advertisers. Since the parties who have access to information about you are not disclosed, you need to consider the possibility that they are unreliable. Another thing you need to think about is the search service that SmartPackageTracker introduces you to. Did you notice that you were redirected to Yahoo Search? If this is your default search provider already, you might not notice the change, but the change is there because the PUP can influence the results you see. Needless to say, if you do not want to be redirected to third-party pages without your permission, and you do not want to be exposed to modified results, you need to delete whatever is causing that.
Before you start removing SmartPackageTracker, we advise inspecting your entire system, which you can do using a malware scanner. It is known that the PUP pushes the installation of Search Secure add-on, but if the PUP was introduced to you via a software bundle, you also need to beware of hidden threats that might have been downloaded without your permission. The instructions should help you if you need to delete unwanted extensions alone, but if malware exists, you should not hesitate to install anti-malware software. Keep it installed if you want to have your system and browsers protected!
Delete SmartPackageTracker/Smart Package Tracker
Mozilla Firefox
Open Firefox and enter about:addons into the address bar.
Click the Remove button next to the PUP.
Enter about:preferences#privacy into the address bar.
In the menu on the left click Privacy & Security.
Under History click Clear History…
Choose a time range, mark the boxes, and click Clear Now.
Google Chrome
Open Chrome and enter chrome://extensions/ into the address bar.
Click the Remove button next to the PUP.
Enter chrome://settings/clearBrowserData into the address bar.
Choose a time range, mark the boxes, and click Clear Now.
In non-techie terms:
SmartPackageTracker might seem great on paper, but the reality is that this extension is pretty much useless. Moreover, it can hijack the default search provider, redirect searches to Yahoo Search to show modified results with sponsored ads, as well as share information about you and your browsing behavior with unknown parties. These are the reason why you should remove SmartPackageTracker without any hesitation. The guide above shows how to eliminate this unwanted extension from Firefox and Chrome web browsers, and you should also clear browsing history to ensure that you are not tracked and that your web search is not affected. Another option is to employ anti-malware software, and that is the perfect tool for those who are struggling with manual removal or those who care about their virtual security in the future.