Do you know what Smart PC Tweaker is?
You might have been tricked into believing that Smart PC Tweaker can make your Windows operating system run faster. According to the information on the official download page, smartpctweaker.com, the application is used by millions, and it offers tools that can clean up the registry, remove add-ons, and manage startup programs. The download page looks professional, and the information represented via it paints a very beautiful picture, which is why there is no doubt that some users would download the PUP (potentially unwanted program) willingly. Some, however, might acquire the program without fully understanding how it works when it comes bundled with other, more desirable applications. All in all, regardless of how you let it in, our research teams suggests removing Smart PC Tweaker. The process is not that complicated, but you want to read this report first to learn all about the suspicious PUP.
Fake system optimizers are not rare, and you can find quite a few removal guides for applications that are very similar to Smart PC Tweaker. Some of them include SpeedupPC 2018, Advance Doc Optimizer, and Smart System Care. One thing that all of these applications have in common is that they offer great benefits, when, in reality, they are unable to perform as promised. Our research team has inspected the suspicious Smart PC Tweaker, and it was concluded that it cannot serve in a beneficial manner. Once installed, it scans the operating system to check for "adware, malware, security issues, & other common issues." The tests performed in our internal lab, however, have shown that the PUP is not capable of identifying even the simplest forms of malware. What does that say? That says that the allegedly beneficial program is bogus, which, of course, means that you should delete it.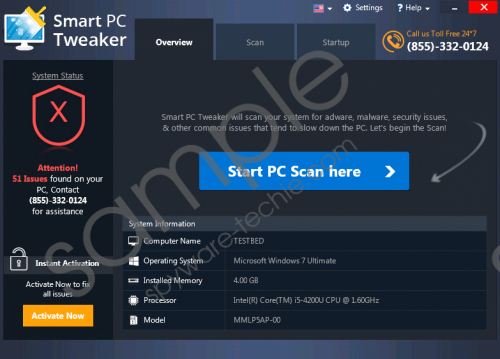 Smart PC Tweaker screenshot
Scroll down for full removal instructions
Despite being unable to perform in a beneficial manner, Smart PC Tweaker demands money for its services. Once the scan is complete, and hundreds of issues are found, you are introduced to the "Start Repair" button. When you click it, you are sent to a purchase page that offers to buy the PUP's license for €23.95. Needless to say, the application is not worth it, and you should invest this money into something better and more reliable. If you end up purchasing the bogus optimizer, the company might end up recording personally identifiable information about you. According to the information on the purchase page, you can get your money back in 30 days if you are not happy with the product. Without a doubt, you should try to use this; however, we cannot promise that the creator of the PUP will give in.
If you have downloaded Smart PC Tweaker, it is possible that you have downloaded Driver Updater as well. And if you have purchased the PUP's license, there is a chance that you have purchased third-party antivirus software as well. Even if you have rejected all third-party software offers, there is a great possibility that undesirable software exists, and that is what you need to look into very carefully. We suggest installing a malware scanner to inspect your operating system first. If malware is found, you must erase it timely. In any case, you cannot forget to delete Smart PC Tweaker, and you should be able to do that yourself following the instructions below. If multiple threats are found, using anti-malware software is recommended.
Remove Smart PC Tweaker from Windows
Windows 10
Type Control Panel into the search field on the Taskbar.
Open the menu and then click Uninstall a program.
Right-click the undesirable application and then choose Uninstall.
Windows 8/Windows 7/Windows Vista
Click the Windows logo on the Taskbar.
Click Control Panel to open a menu and then move to Uninstall a program.
Right-click the undesirable application and then select Uninstall.
Windows XP
Click the Start menu logo on the Taskbar.
Open Control Panel and then move to Add or Remove Programs.
Select the undesirable application and then click Remove.
In non-techie terms:
If you have downloaded Smart PC Tweaker, you probably believed that this application would serve you in a beneficial manner. Unfortunately, this is a fake system optimizer whose promises are empty. The best thing you can do after installing this PUP is to remove it. Hopefully, you have not paid money for its services yet because that would be a waste of money. The chances are that you have downloaded the fake optimizer along with other malicious threats, and that is why scanning the operating system is very important. If you choose to delete Smart PC Tweaker and all other threats yourself, start by inspecting every threat individually. You can erase the PUP using the instructions above. If you cannot handle the situation all by yourself, using an automated anti-malware program is strongly recommended.