Do you know what Smart PC Cleaner is?
Smart PC Cleaner is a potentially unwanted application that functions as a computer performance optimizer, or at least that is what it is supposed to do. However, security experts point out multiple flaws in the program's setup that should not be overlooked if you care about your computer's security. It would be for the best to remove Smart PC Cleaner from your system immediately, as this program could easily lead to some nasty security issues. Please scroll down to the bottom of this description for the manual removal instructions. We offer two sets of instructions, and it is up to you which one you would like to use.
If this program happens to pop up on your screen out of nowhere, you should not panic. It is not a rogue antispyware application, nor is it a dangerous computer infection. Even if you did not install it willingly, Smart PC Cleaner comes from the same family as ProPCClearn, Optimizer Pro, and we know exactly what you can expect from this application. And that thing is nuisance. The program uses aggressive marketing tactics to get into your computer, and once it does, it annoys you further on with various notifications and pop-up messages that claim your computer has multiple errors. For instance, Smart PC Cleaner may tell you the following:
Attention!

Smart PC Cleaner found 216 items to clean and optimize your PC.
To immediately clean and optimize your PC you need to register Smart PC Cleaner.
This is the message that the program displays after a full system "scan." As you can see, the application offers to "fix" the supposed errors, but you need to register Smart PC Cleaner or buy the full version, in other words. Unfortunately, there is no data that would suggest this application can really solve the problems it detects. If anything, it can only cause potential issues by installing additional unwanted software. For example, it is known that Smart PC Cleaner installs another potentially unwanted program called Internet Quick Access, and it may also change your default homepage to search.realcoolmovie.com.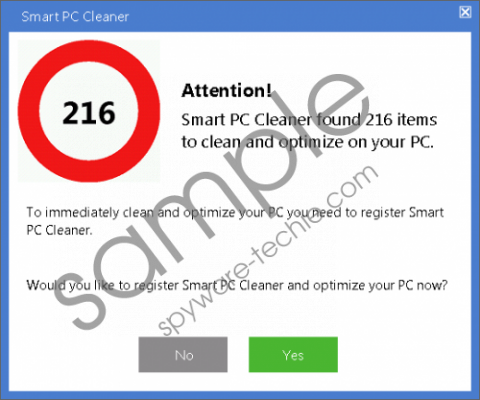 Smart PC Cleaner screenshot
Scroll down for full removal instructions
Now, it does not matter whether the application can really deliver. When it exhibits such intrusive behavioral patterns, it should not be tolerated any longer. When you remove Smart PC Cleaner, make sure you terminate all the other side effects this program caused and get rid of additional applications that might have arrived with the annoying system optimizer.
It is very likely that you downloaded Smart PC Cleaner bundled with freeware and adware, so, for the optimal effect, run a full system scan with the SpyHunter free scanner and delete any unwanted programs found.
In order to avoid similar intruders in the future, you should refrain from downloading programs from unknown sources. Also, if you are about to install some relatively unknown applications, perhaps you should search the web for more detailed information about it before you can decide whether the program in question is reliable.
Finally, acquiring a powerful antispyware tool and keeping it up-to-date is always your best bet when you need to ensure that no other threat bugs you again. Just do not wait until it is too late to do anything about it.
How to Remove Smart PC Cleaner
Windows 10, Windows 8.1 & Windows 8
Press Win+R and the Run command prompt will open.
Type "control panel" into the Open box and click OK.
Go to Uninstall a program and remove Smart PC Cleaner.
Windows Vista & Windows 7
Open the Start menu and click Control Panel.
Select Uninstall a program and remove Smart PC Cleaner.
Windows XP
Click the Start menu button and navigate to Control Panel.
Open Add or remove programs and uninstall Smart PC Cleaner.
In non-techie terms:
Smart PC Cleaner is an annoying application that promises to improve your computer's performance. However, the program is too obnoxious and too aggressive to keep it on your system. It is strongly recommended that you remove Smart PC Cleaner today, and then safeguard your PC against similar undesirable applications. For an alternative software removal method, please check out the secondary set of instructions below.