Do you know what Smart PC Care is?
Smart PC Care is a potentially unwanted program that promises to improve your computer's performance. As a system optimization tool, this application might look like a useful program that can really live up to its promises. However, when a program enters your computer accidentally, it is clear that you should not tolerate it. Therefore, scroll down to the bottom of this description for the manual removal instructions and uninstall Smart PC Care from your computer. Although this program might not be a direct computer security threat, there is no need to keep a program you did not want to have.
While most of the potentially unwanted programs come with official websites, not all of them work. The same applies to Smart PC Care, too. The official website via smartpccare.win does not work, and it is impossible to download the application from the main source directly. Hence, we can assume that most of the users get this program through other distribution channels. It is also possible to assume that users are seldom aware of the fact that they install such applications on their computers. Consequently, they are taken by surprise when the likes of Smart PC Care pop up on their screens.
So how do these programs manage to enter target computers if their official websites are down? The point is that potentially unwanted programs seldom have just one distribution channel. It is far more likely that a program like Smart PC Care would enter your computer in a software package when you download programs from file-sharing sites. Perhaps there has been too much emphasis on the most dangerous computer infections over the years for the users to pay attention to the small fry. However, it is very often that folks download freeware applications and they bundled with a number of unnecessary programs, too.
The next time you download something from a file-sharing website, make sure you go through every single step in the installation wizard because it might offer you the opportunity to avoid installing unnecessary applications. If you skip most of the steps, rushing towards the Finish button, you may end up with many other undesirable applications, not just Smart PC Care.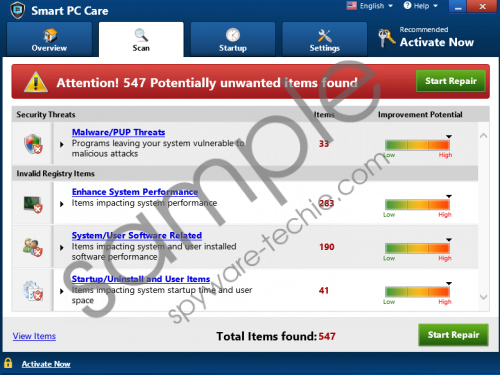 Smart PC Care screenshot
Scroll down for full removal instructions
You should also look out for random pop-ups and redirects that might automatically initiate the program's download, too. Thus, it is for the best to avoid unfamiliar websites, especially those that contain a lot of advertisements. Of course, a potentially unwanted program is not a death sentence, but why should you waste your time dealing with it if you can avoid it altogether?
Smart PC Care shares its registry key with another potentially unwanted program called Win PC Repair. It shows that those applications are developed in throngs, and they are not particularly sophisticated. It also allows us to assume that these programs use the same tactics to trick users into using them. Although the days of rogue antispyware applications are long gone, we can say that such system optimization programs still follow that path because they tend to inform users about non-existent errors and threats.
For example, if you run a full system scan with Smart PC Care, you will see that this program will "find" a lot of potentially unwanted items. During our tests, this application located 547 "unwanted items," including 33 malware threats. The point is that we have run the test on a genuinely clean computer, so it is rather funny how Smart PC Care located multiple threats and offered us to repair our system.
However, this program does not repair anything for free. If you click the Start Repair button, it will require you to purchase the subscription, and you would end up spending your money for nothing. Rather than worrying about these "unwanted items," you should focus on removing Smart PC Care from your system today.
It is easy to get rid of this application because you can simply uninstall it via Control Panel. Nevertheless, you should still scan your system with a reliable antispyware scanner because such programs tend to travel in groups, and you are bound to have more unwanted apps on-board.
If you find it too overwhelming to remove all those unwanted programs on your own, you can do it automatically with a licensed antispyware tool. Just make sure that your system is safe and clean again.
How to Remove Smart PC Care
Windows 10 & Windows 8.1
Press Win+R and type Control Panel. Click OK.
Go to Uninstall a program and remove Smart PC Care.
Windows Vista & Windows 7
Open the Start menu and go to Control Panel.
Click Uninstall a program and remove the application.
Windows XP
Press the Start button and navigate to Control Panel.
Select Add or remove programs and delete the application.
In non-techie terms:
Smart PC Care may look like a useful tool that can improve your computer's performance, but that is far from the truth. This application is a potentially unwanted program, and it is very likely that you download the program accidentally. If you did not plan to have this program, it is about time to uninstall Smart PC Care from your computer. Should you have more questions about system security, you can always leave us a comment below. You should do everything you can to protect your computer from harm.