Do you know what SlikDealer New Tab is?
SlikDealer New Tab is a questionable Google Chrome browser extension that may present to you unreliable third-party contents. This application is supposed to offer all kinds of coupons for you as well as easy access to your latest shopping sites and coupon-related websites. But somehow it does not seem to work properly. We do not advise you to use this tool for searching the web either because you might be exposed to questionable search results. Our researchers say that it is possible that this potentially unwanted program (PUP) may show up in your browser under questionable circumstances. This can also mean that your system could be under attack on multiple fronts, i.e., your PC could be infected with malware threats. Therefore, we suggest that you remove SlikDealer New Tab from your browser and all other threats from your system so that you can use a secure PC.
There is only one way for you to officially install this useless PUP, if you find one of its three Chrome web store pages: chrome.google.com/webstore/detail/slikdealer-new-tab/copmmchebencocnbcdpkdanmbggaobec, chrome.google.com/webstore/detail/slikdealer-b/daeeeededgpbonoidlmlcacnnpafkpbi, or chrome.google.com/webstore/detail/slikdealer-c/fmjecpjhbeiighnmcpgijphelkacoepm. However, as the statistics indicate, only two users have found any of these in the past year. This makes you wonder about the benefits and reliability of this browser extension. Its promotional webpage, slikdealer.com/index.html, does not even make this PUP available for download even though there is indeed a Download button. This could be enough for a security-minded user to delete SlikDealer New Tab right away; although, such a user would never install this PUP in the first place.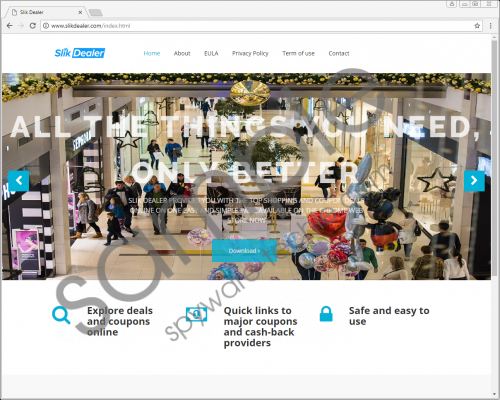 SlikDealer New Tab screenshot
Scroll down for full removal instructions
But what if you can install this extension without targeted download? We mean that it may be possible to install it by clicking on corrupt third-party ads. You may be presented with an ad on a suspicious video streaming site claiming that you need to install the latest Flash driver to be able to see content on the site. However, when you click to install, you would simply drop this useless PUP in the background. The worse case is when you download a whole software bundle. Cyber criminals like to use software packages to distribute PUPs as well as malicious threats like browser hijackers, Trojans, adware programs, keyloggers, backdoors, and more. Beware of clicking on third-party ads when your PC could be infected or when you land on suspicious websites. We advise you to delete SlikDealer New Tab and once done with that, you should use a trustworthy malware scanner to find all possibly harmful programs, too.
This PUP was developed by First Offer (firstofferz.com) and released back in April, 2017. Still, there have been no official downloads since then practically. This tool sets "slikdealer.com/ext/index.html?cfg=cfgA.json" as your new tab page and default search provider as well. Although this search page should feature coupons, it seems that sometimes you will not even see them. It is not safe to use it for web search because this PUP may alter the search results and inject promoted content. You are taken to a Google search results page where you could click on compromised content. This might result in further infections or even online scams if you are redirected to malicious pages. Since this is a totally useless PUP without any real benefit for you, we recommend that you remove SlikDealer New Tab from your browser.
If you have made up your mind about this PUP, you can use our instructions below to get rid of it as soon as possible. But, remember that this may be the least worrisome application on board. If you want to use a clean machine, you should go on hunting down all possible threats. It is unlikely that you could tackle all of those manually if you are not an advanced user. And, time is money, too. So, if you want to have proper protection on your PC, we advise you to install a trustworthy anti-malware application, such as SpyHunter. This up-to-date security software can automatically detect and eliminate all known malware infections and potential threat sources as well. This is how you can then experience real peace of mind.
Remove SlikDealer New Tab from your browser
Google Chrome
Press Alt+F and select More tools.
Navigate to Extensions.
Locate the extension and click on the Trash can icon on its right.
In the pop-up, press Remove.
In non-techie terms:
SlikDealer New Tab is an almost one year old browser extension that still does not seem to be functioning properly. This Google Chrome browser extension is supposed to provide you with coupons and websites dealing coupons, but only half of these features seem to work. As a matter of fact, this tool may be created with the sole intention of promoting third parties. Now, this is bad news since this also means that you could be presented with potentially unsafe third-party content while using this potentially unwanted program. Since it may also enter your system in a freeware bundle along with malicious software installers, we recommend that you remove SlikDealer New Tab from your browser and eliminate all other possible threats from your system, too. If you would like proper protection for your computer, you can always install a reliable anti-malware program.