Do you know what SlateBeauty is?
SlateBeauty is probably your next worst nightmare because this adware application will prevent you from browsing the Internet properly by displaying multiple commercial ads. As one can probably tell, adware programs are not extremely dangerous, but they COULD lead to particular computer security issues, and we definitely would not want to deal with that in the near future. Therefore, do yourself a favor and remove SlateBeauty from your system right now. Not sure how to go around that? We are here to help you. Simply scroll down and check out our set of removal instructions.
This application obviously comes from one of the newest adware families that have been torturing Internet users for quite some time now. The application is very similar to Moneyzila, NewsCert, DatingDone, TipMediaPlayer, CareerPronto, and a number of others. The main feature of all these applications is that they have official websites, and you can easily download them without any third-party source. Consequently, you can see that SlateBeauty's official website has to offer at slatebeauty.com.
To be quite honest, it does not offer much. The website follows the same layout pattern as the rest of the adware sites. It has a nice background image and one or two promotional lines that you should hook you up: "Daily Tips Via the Beauty Feed. Free Beauty Tips & Info from your computer! Download to start your beauty." The question is, however, whether you really need a third-party application to help you find beauty tips. It can be easily done via your default search engine. That said, aside from the background image, promotional tags, and the working (!) download button, this website also hosts third-party ads that are supposedly related to the topic as well.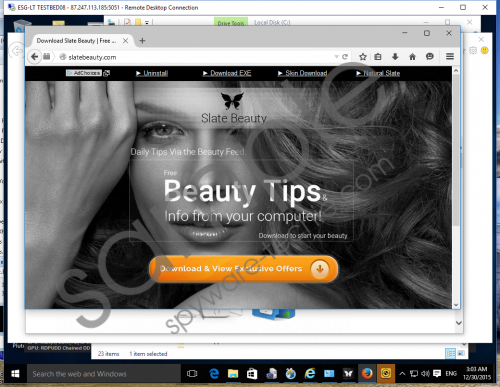 SlateBeauty screenshot
Scroll down for full removal instructions
We usually encourage users to download programs from their official websites because it is safer. However, when it comes to adware, it usually does not matter where you download it from. SlateBeauty and other programs from the same group are notorious for bundling additional apps in their official installers, so even if you download something from the official website, you are bound to install several other programs on your computer. These programs could be adware, freeware, browser hijackers, and other potentially unwanted applications. To name just a few, that could include Sweet-page.com, MyPcBackUp, Search Know, and other undesirable software. There is no clear list because the programs you download depend on your region.
So what happens when this adware enters your PC? First, when you open the application, it launches a new browser window with the Dating Smith image at the top of it. It does not matter which program from the family you install, all of that do that. Aside from that, SlateBeauty may also collect your web browsing information, checking out which websites you frequent, and what you usually search for online. This way, the application can create your online profile and later on it can target custom commercial content at you. This is why all those pop-ups you see on your screen are related to your most recent searches in one way or the other.
This should urge you to click the ads and, consequently, help the people behind the program make easy money. Alas, you get nothing in return, and sometimes you could even be exposed to malicious threats. The point is that we do not even need to talk about the "main" functions of this program because its adware capabilities are far more prevalent. Therefore, this is also the reason you should get rid of it.
Open your Control Panel and uninstall SlateBeauty just like you uninstall any other unwanted application. If you have never tried it on your own, please follow the removal instructions closely, and you will be able to do it without any difficulties.
As for the other potentially unwanted programs, be sure to scan your PC with the SpyHunter free scanner, and you will find out whether you have more potential threats or not (most probably, you do). From there, you can choose to either delete them manually via Control Panel or, if the manual removal is out of question, you can always install in a powerful antispyware tool that will do the job for you. Make the choice that is the best for you!
How to Remove SlateBeauty
Windows 10 & Windows 8.1
Press Win+R simultaneously and the Run Prompt will show up.
Enter Control Panel into the Open box and click OK.
Go to Uninstall a program and remove the adware application.
Windows Vista & Windows 7
Open the Start menu and navigate to Control Panel.
Select Uninstall a program and remove the adware application.
Windows XP
Click the Start menu button and select Control Panel.
Double-click Add or remove programs and uninstall the adware app.
In non-techie terms:
SlateBeauty is a program that makes all those annoying pop-ups show up on your screen. It will also slow down your PC and expose you to dangerous web pages that could be related to malware. In the worst-case scenario, you could be infected with malicious programs that might destroy your system and steal your money. Prevent this from happening by deleting this adware application today.